-A.M. Aguilar
Review: A Darker Shade of Magic by V.E. Schwab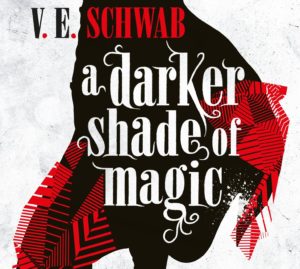 Fast paced, Thrilling and Intoxicating Fantasy Read
"A Darker Shade of Magic," is book one in the Shades of Magic trilogy. If you've been here since winter 2020, (or if you follow me on bookstagram 🙂 ) then you are probably aware of how much I adored this book.
The traveling between worlds, dark magic, pirates and thieves, plus the unique characters in this book, captivated me like never before. Also, Victoria Schwab's writing style and her worldbuilding is top tier and I couldn't resist it. 😉
Today I bring you the review for this book, as I promised on my IG stories; and I'll also be sharing the updates for "A Gathering of Shadows," book two, which I'm currently reading.
Disclaimer: I want to note this is an Adult Fantasy Book, not YA. I will still write a review because many of my fellow book lovers can read it already. Warnings/Triggers: attempted rape, torture, self-harm, violence, blood, talk of parental abuse.
The book follows the story of the last antari, Kell. Antari are magicians with a rare ability to travel between parallel Londons; Red, Grey, White, and one lost forgotten, Black.
Think of them as different dimensions in the same setting, and to travel between them a portal has to be opened and you're transported to that same spot in the other London, though it may not look like the same place there. I can open a door in my room, Red London, and come out inside a tavern in Grey London. Got it? 🙂
Antari can also manipulate magic with much more power and force than other magicians do. (They are also recognisable for being two-colored eye, one of the Antari's eyes is black and the other is a normal one). Kell, born in Red London, officially serves the King and Queen as an ambassador traveling between the governing regimes in White and Grey London to deliver messages or run top secret errands.
But, Kell is also playing a dangerous game and secretly servicing people willing to pay for even the smallest glimpses of a world they'll never see, smuggling objects from one London to another. It's a defiant hobby with very, severe consequences, which Kell is aware of, but he can't stop doing it yet…
"For the ones who dream of stranger worlds."
And it is when one of these exchanges goes wrong, and Kell receives a dangerous object to take back to his world, that Kell's only option is to escape to Grey London, where things aren't looking great either. Here, he runs into Delilah Bard, a very dangerous and very curious thief, who robs him but also happens to save him from a deadly magician just in time.
Lila is now forced to join strengths with Kell and together defeat the dark magic that lurks at every corner, before it consumes them. It is their mission to save the rest of the worlds by doing so, if not, the same darkness that consumed Black London will attack them too. 😀
"Bad magic, Kell had called it. No, thought Lila now. Clever magic. And clever was more dangerous than bad any day of the week."
Schwab did such an astounding job in writing and detailing the magic system and rules that controlled it, along with the worldbuilding of this world, that it is impossible not to grasp every concept and inmerse completely in this fantasy place she created. Personally, I really loved the travelling rules and blood magic Antari use to navigate the different worlds and fulfill this job.
As I've told you guys before, there are books that you love for the characters and their unique personalities, and books you love for the plot and storyline. But when you find a book that has both of these qualities… it becomes a masterpiece *chef's kiss* 😉 And that's exactly what I loved from "A Darker Shade of Magic."
All of the characters played such an important role, (and I really loved Prince Rhywith his charming and sassy personality) and even the spine-chilling and daunting villains, the Dane Twins and Holland Vosijk, are incredible.
There were times where I even closed my eyes or looked away from the book to "not see" what was about to happen 😀 Thrilling, exciting and gripping storyline for sure.
"I'd rather die on an adventure than live standing still."
If you are a fan of Fantasy Fiction and books with clever and complex magic systems, you will surely enjoy this one! I promise you won't stop reading once you begin, it is a fast paced and enthrilling read with incredible fighting scenes, world travelling and dangerous uses of magic that will make you adore this book.
I hope you like this review, my dear book lovers. I surely enjoyed writing it and I can't wait to know your opinions on this book.
If you can, please shared this review with friends or family you know would love this book 🙂 Stay safe, healthy and positive! I wish you the best this week and hope for you to spent time doing the things you love too. Spread love always book lovers.
Have you read A Darker Shade of Magic? What are your thoughts on it?
Are you planning on reading it? I hope that's a solid yes 😉
Let me know your thoughts in the comments.
"Kell is one of the last Antari—magicians with a rare, coveted ability to travel between parallel Londons; Red, Grey, White, and, once upon a time, Black.

Kell was raised in Arnes—Red London—and officially serves the Maresh Empire as an ambassador, traveling between the frequent bloody regime changes in White London and the court of George III in the dullest of Londons, the one without any magic left to see.

Unofficially, Kell is a smuggler, servicing people willing to pay for even the smallest glimpses of a world they'll never see. It's a defiant hobby with dangerous consequences, which Kell is now seeing firsthand.

After an exchange goes awry, Kell escapes to Grey London and runs into Delilah Bard, a cut-purse with lofty aspirations. She first robs him, then saves him from a deadly enemy, and finally forces Kell to spirit her to another world for a proper adventure.

Now perilous magic is afoot, and treachery lurks at every turn. To save all of the worlds, they'll first need to stay alive."