-A.M. Aguilar
Top 5 May Reads
Mystery Thriller, YA Fiction, High Fantasy & YA Contemporary
June is here, it's finally midyear, 2021. That means… yeah, you guessed it. Monthly wrap up coming your way! I thought May would be the month where I would read the least because my classes started the 21st, but I actually read quite a lot before classes started. And even in classes I sneaked my books in and read when I could 😉 So today I bring you my Top 5 Reads of May…
I discovered new books and series that I really hope more people can read <3 and I fell in love with some amazing characters and books too. I always look forward to other bloggers and bookstagrammers monthly wrap ups because it is fun to see how everyone spent their month reading. Of course my TBR is never-ending every month but that just makes me excited to read books forever 😀
If you've been following me on Instagram, (what are you waiting for, if you haven't? @thebookssmuggler) then you may have seen me fangirl over many of these in my stories and posts. I'm always active there so stay tuned. I'm always happy to talk with you guys and gush over our favorite reads in DMs 🙂
Friendly reminder that reading is not a task or job. Never pressure yourself to read a certain amount of books but enjoy yourself and make it fun, don't make your hobbies a homework. It is okay if you could not spend your month reading, it doesn't make you any less of a book lover. Always make YOURSELF a priority and dedicate time to all the things you love, like writing, music, art, movies & many more beautiful things you enjoy. I learned this from you guys so never forget it yourself <3
Now back to the post 😉 I will be focusing on my top 5 reads from May, but make sure to check out the books in my "Other Books I Read" section too, because those are so worth it too!! I hope these books catch your attention and you can add them to your June TBR list 😉 I finished the Stalking Jack the Ripper series, I read more Alice Oseman because I'm obsessed, I read two amazing Fantasy books and a very special contemporary book too.
If you want to, you can also check out my Top 5 March & April Reads !
With nothing more to say, let's get started…
Top 5 May Reads
1. Solitaire by Alice Oseman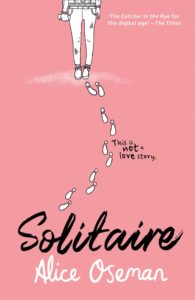 This was Alice's debut, her first novel, and after reading her other books I can definitely see the growth and improvement compared to this one. I definitely enjoyed Solitaire too because I was super intrigued with Tori's character after reading Heartstopper, but it still didn't surpass Loveless which still has place #1 for me 😉 Either way this one is so worth it!
Solitaire deals with different topics especially important things surrounding young kids and teenagers like mental health, eating disorders, harmful internet movements, college, and many more. I really enjoyed this book, even if sometimes Tori wasn't my favorite one but it made sense because she is a realistic and relatable character, so I liked that. In case you're wondering, this is not a love story 🙂
Tori Spring is our main character. She's a very interesting character, she likes to sleep and blog, and hates high school just as much as your average teenager. Last year, before all the complicated stuff with Charlie (her brother) and before she had to face the harsh reality of university applications, Tori had friends. Things were very different, I guess, but that's all over now. Now there's Solitaire, a very dangerous and suspicious blog that's wreaking havoc in school. No one knows what they are trying to do… And then there's Michael Holden which is a mystery himself.
I promise you Alice Oseman is a MUST READ. You may start with this book if you want to go in chronological order or begin with her graphic novels, Heartstopper, so you can meet Tori Spring's character. But regardless of the order you choose to read her books they are all incredible books with amazing lessons, characters & adventures!
4/5
2. Capturing the Devil by Kerri Maniscalco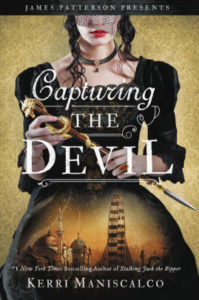 THIS ONE, is fighting for place #1 of my favorite read of the year! The amazing finale to the "Stalking Jack the Ripper" series. Surreal, fascinating and captivating indeed, the drama, the action, the suspense & the adventures where out of this world. I enjoyed it SO much.
I was impressed with Kerri Maniscalco's writing too because you can see how much she has improved and the amazing job she did of intertwining characters and events from the previous three books in this one.
I don't want to spoil the first book to you guys so go ahead AND READ THAT BOOK BECAUSE IT IS INCREDIBLE & you will meet my favorites Audrey Rose and Thomas Creswell who are the main leads of this book too. They are on the hunt for the depraved, elusive killer known as the White City Devil. A deadly game of cat-and-mouse has them fighting to stay one step ahead of the brilliant serial killer and see their romance cut short by an unspeakable tragedy.
The second I finished the book I was longing to reread them from the first book because they're so good and you really grow to love the characters, especially Daciana, Dr. Jonathan, Lisa, and Audrey's grandmother omg! Do yourself a favor and read Stalking Jack the Ripper already 😉
5/5
3. Zara Hossain is Here by Sabina Khan
This one is a new favorite too. I really loved seeing all of the young kids fighting and advocating for human rights, against hate and discrimination of race, ethnicity, religion, gender, and sexuality. It truly is inspiring and teaches us what to do when it is ourselves in a situation like the one Zara was in.
This book also deals with topics like immigration, religion, found family and love. A beautifully written story, "Zara Hossain is Here" follows the story of Zara's family who has waited years for their visa process to be finalized so that they can officially become US citizens. But it only takes one moment for that dream to come crashing down around them and begin a turmoil of events for their lives. Painfully real and honest, this book will surely teach you about new perspectives of life.
Seventeen-year-old Pakistani immigrant, Zara Hossain, has been leading a fairly typical life in Corpus Christi, Texas, since her family moved there for her father to work as a pediatrician. While dealing with the Islamophobia that she faces at school, Zara has to lay low, trying not to stir up any trouble and jeopardize their family's dependent visa status while they await their green card approval, which has been in process for almost nine years.
But one day her bully, Tyler Benson, takes things too far leading to a violent crime that puts Zara's entire future at risk. Now she must pay the ultimate price and choose between fighting to stay in the only place she's ever called home or losing the life she loves and the family she's found in it.
A book that intimately looks at what it means to be an immigrant in America today, and the endurance of hope and faith in the face of hate. WON'T STOP RECOMMENDING 😀
5/5
4. These Witches Don't Burn by Isabel Sterling
Elemental and Blood witches, a mysterious killer and a new girl in town that may or may not be dangerous for her family, Hannah's life has taken a sudden change when terrifying blood ritual interrupts her end-of-school-year bonfire and evidence of dark magic begins to appear allover Salem.
Hannah is a witch herself, an Elemental with the power to control fire, earth, water, and air, but her magic is a secret she has to keep to herself, and she's sure it's the work of a deadly Blood Witch.
The issue is, her coven is less than convinced, forcing Hannah to team up with the last person she wants to see: Veronica. They attempt to solve a crime committed in front of regs (non-witches) amid a supernatural crisis, which is of course easier said than done, and Hannah will have to test the limits of her power if she's going to save her coven and her family from the deadly events that come up each day.
This is an incredible book, fast paced story, full of dark magic, witches and a fight between covens in modern day; I loved it! I promise you it is super fun and exciting, you won't be able to put it down once you've started! 🙂
5/5
5. A Conjuring of Light by V.E. Schwab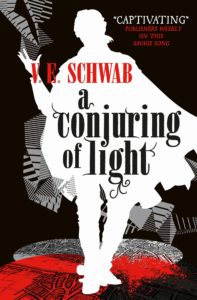 Another epic finale <3 This trilogy has become one of my absolute favorites and I won't stop recommending it either ;)) If you're following me on Instagram, you may have noticed me freak out over this ending in my stories and of course praise my favorite characters, Delilah Bard and Kell Maresh. Please read these ones!! Book 3 is INCREDIBLE and you will adore every second of it.
Last book in the Shades of Magic series, "A Conjuring of Light" follows the story of Kell, an Antari, when he begins to waver under the pressure of Osaron, our cruel villain. I SWEAR THEY ARE INTIMDIATING. At the same time, we begin you see how the equilibrium among the four London has reached its breaking point and an ancient enemy returns to claim a crown while a fallen heron tries to save the world. In the wake of tragedy, can Arnes survive?
10/10 would recommend these incredible books full, of magic, adventure, pirates, and a fight to take control over the biggest power available in this world. MASTERPIECE. If you're interested, you can check out my review for book one, A Darker Shade of Magic! Click here.
4/5
I hope you guys enjoyed this wrap up and that more than one of these books have caught your attention too 😀 And if you ever pick up one of these PLEASE LET ME KNOW! I always enjoy talking about my favorite books with you guys and fangirling over our favorite characters. Every time one of you says you've read a book I recommended you make the happiest <3
Comment down below which of these you're excited to read & if you've already read any of my top 5 for this month, let me know too and tell me about favorite reads of May! Also, thank you to all of you who stay up to date with my posts & have been following me through this journey, you're truly the kindest and most amazing people I know. I don't have words to express how grateful I am, thank you, truly!
Stay safe, take care and spread love always dear book lovers! Let's not lose hope yet, we've got a whole journey ahead of us. Wishing you all the best this week. You can always stay up to date with my content through my Instagram account, I'm always active there on stories, posts and DMs so make sure to follow me and let's interact too 😀
Happy reading book lovers!
Did you spend the last month reading? Tell me how it went down below in the comments & which was your favorite read of the month!
OTHER BOOKS I READ