-A.M. Aguilar
Top 5 December Reads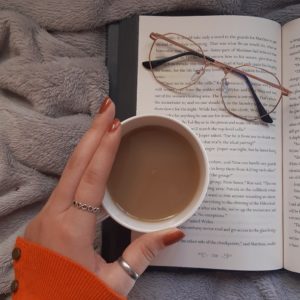 Fantasy & Fiction, YA Fiction, Historical Fiction, Science Fiction
I know, I know: "Andrea, but we're in February." And I know that, but I've been so busy since we began college in January, that I didn't have time to sit down and write this December wrap-up 🙁 But the biggest thank youu to all of you for being patient with me! I still wanted to share this wrap up specifically so bare with me.
I've missed writing and reviewing so much but second year of college + online classes don't go well together hahaha 😉
I'm amazed at how fast this year is going, (and I've probably said this since 2020) but it is true! We are in February already, WOW! I still hope you're all doing okay, staying safe and healthy. Friendly reminder to dedicate some time to yourself, doing the things you love to do, it is more than worth it.
I miss writing but I hope this year I'll focus more in me & this blog, which is one of the things that brings me the most joy 🙂 Another one of these, is bookstagram (@thebookssmugler); man, I truly love it there & I'm more than grateful to have found all of you. We're so close to 1.3K book lovers that I can't believe it. Thank you so much from the bottom of my heart!
During the last month of 2020, I had a chance of reading 9 incredible books. I can't share all of them, so I'm focusing on my top 5. I hope you'll like this mini-reviews and possibly get intrigued to go grab the book asap 😉
On December I read book 1 of my now considered favorite trilogy, Shades of Magic, I read King of Scars, two contemporary books, a short novella, and my very first Historical Fiction book!
I can't wait to share these with you guys and hopefully have you add some of these great books to your TBR pile :). If you want to, you can also check out my Top 5 Oct & Nov Reads !
With no more to say, let's get started…
Top 5 December Reads
1. A Darker Shade of Magic by V.E. Schwab
TW: attempted rape, torture, self-harm, violence, blood, talk of parental abuse.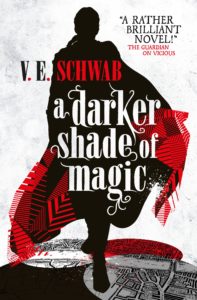 If you've been following me on bookstagram then you're probably aware of how much I ADORE this book 😀 A Darker Shade of Magic is book one in the Shades of Magic series and this has become my all-time favorite trilogy. The world building, the character's originality, the magic system, and V.E. Schwab's writing style- You'll truly be captivated by this one! I promise.
This book follows the story of Kell, one of the last Antari—magicians with a rare ability to travel between parallel Londons. Kell was raised in Red London and officially serves the crown by traveling between White and Gray London to deliver official messages. However, Kell is also servicing people willing to pay for even the smallest glimpses of a world they'll never see, illegally.
And now, after an exchange of those goes wrong, Kell has to escape and destroy this rare item in his possession. With help of Delilah Bard, a cut-purse with lofty aspirations, it's their job to save all of the worlds, before they are consumed by this dangerous, perilous magic and what its bringing forth.
Check out the review I wrote of this one right here, and beware of the trigger warnings if you decide you want to read it 🙂
6/5 😉
2. The Midnight Library by Matt Haig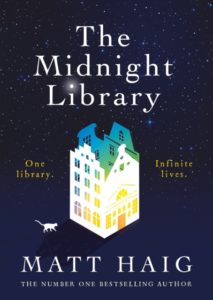 Between life and death there is a library, and within that library, the shelves go on forever. Every book provides a chance to try another life you could have lived. To see how things would be if you had made other choices. Nora Seed finds herself faced with this decision. Faced with the possibility of changing her life for a new one, following a different career, undoing old breakups, realizing her dreams of becoming a glaciologist; she must search within herself as she travels through the Midnight Library to decide what is truly fulfilling in life, and what makes it worth living in the first place.
This is one of those books you can't have enough of in one read. It's a book that needs to be read, and read again, and digested completely. I promise this is how you'll feel once you've read it. And from each one time you read it, you'll surely learn many valuable lessons.
The Midnight Library is one of the best books I've read, it is written so simply and yet it is so complex to grasp. I adored every second of it. Nora's character development is stunning, and the way you can learn so much from her story, even if its very different from your own life. I don't want to spoil more than what you read in the summary, but believe me when I say, this book is a life-changer.
This book is worth reading more than once! (Just as the last one, try to search for the trigger warnings before reading this, and if you decide to pick it up, it will be worth it 😉 )
5/5
3. The Gentleman's Guide to Vice & Virtue by Mackenzie Lee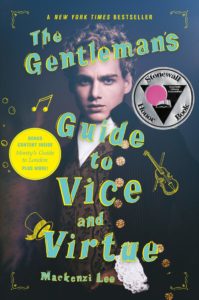 This is the first Historical Fiction book I've read in my life; and I'll never regret picking this one up. It was a captivating and entertaining read; Mackenzie Lee made it fun to read about this characters but also made it easy to care for them and want to continue following their story. If you've never read a book on this genre or are looking for a new Historical Fiction book to grab, this is the one!
Henry "Monty" Montague was born and bred to be a gentleman, but he was never one to be tamed. The finest boarding schools in England and the constant disapproval of his father haven't been able to curb any of his roguish passions. But as Monty embarks on his Grand Tour of Europe, with his best friend Percy and little sister Felicity, his quest for a life filled with pleasure and vice is in danger of coming to an end. His father expects him to take over the family's estate upon his return.
Still, Monty's nature is to never give up. He vows to make this yearlong escapade one last hedonistic hurrah and flirt on any chance he gets from Paris to Rome. But when one of Monty's reckless decisions turns their trip abroad into a harrowing manhunt that spans across Europe, it calls into question everything he knows and who to trust.
Truly enjoyed this one and I was super hooked to read the rest of the books in tow: The Gentleman's Guide to Getting Lucky and The Lady's Guide to Petticoats and Piracy which I'll talk about later on 😉
4/5
4. King of Scars by Leigh Bardugo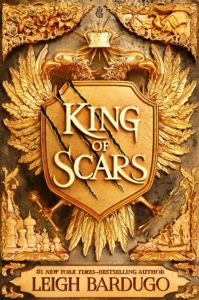 The Grishaverse is, with no doubt, one of my favorite bookish fantasy worlds and at this point we all know how much I love Nikolai Lantsov 🙂 . This book specifically follows his story after the events of Six of Crows. I enjoyed this one so much and one of the reasons was surely the incredible improvement in Leigh Bardugo's writing, which I could notice after reading her previous books first.
The way she captured the raw and pure emotions of the characters, the descriptions of the suspenseful and mysterious scenes- It was incredible. So if you're planning on reading this one, I'll suggest to dive into the Grishaverse with the first few books before 😉 . With that being said, beware of some spoilers for The Grisha Trilogy and the Six of Cows Duology ahead.
The dashing young king, Nikolai Lantsov, has always had a gift for the impossible. No one knows what he endured in his country's bloody civil war–and he intends to keep it that way. Now, as enemies gather at the weakened borders of Ravka, Nikolai must find a way to forge new alliances and stop a rising threat to the once-great Grisha Army.
Yet with every day a dark magic within him, specifically coming from his experience fighting The Darkling, grows stronger threatening to destroy all he has built. With the help of a young monk and a legendary Grisha general, Nikolai will journey to the places in Ravka where the deepest magic survives to eliminate the terrible legacy inside him. He will risk everything to save his country and himself.
5/5
5. The Lady's Guide to Petticoats & Piracy by Mackenzie Lee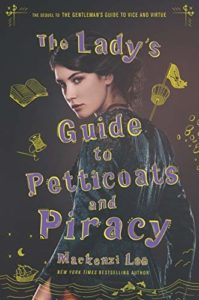 Sequel to "The Gentleman's Guide to Vice and Virtue," it follows the story of our lovely, Felicity a year after an accidentally whirlwind grand tour with her brother Monty and his best friend, Percy.
Felicity Montague has returned to England with two goals in mind—avoid the marriage proposal of a love-struck suitor from Edinburgh and enroll in medical school. However, her intellect and passion will never be enough in the eyes of the administrators, who see men as the guardians of science and not women.
But then a window of opportunity opens: a doctor she idolizes is marrying an old friend of hers in Germany. Felicity believes if she could meet this man he could change her future, but she has no money of her own to make the trip. Luckily, a mysterious young woman is willing to pay Felicity's way, so long as she's allowed to travel with Felicity disguised as her maid. Felicity agrees, but once the girl's true motives are revealed, Felicity becomes part of a perilous quest that leads them from the German countryside to the promenades of Zurich to secrets lurking beneath the Atlantic.
THIS BOOK IS GOLD. At least it was for me 😀 I had so much fun reading this book and getting to know Felicity more then what I knew of her from book one, was incredible. I was able to relate to her character in many aspects 🙂 , including that passion for knowledge and determination to achieve her dreams no matter how much it costs to get there.
I really, really recommend reading these books, and I hope you'll enjoy them as much as I did. Mackenzie Lee did an amazing job capturing the essence of this time period and the challenges the characters had to go through back there. Especially intelligent and determined women, like Felicity!
6/5
I know it's kind of late to post a December wrap up xD but this was one of my favorite reading months of 2020, so I had to share these amazing books! I hope you're intrigued by some of these incredible books I've shared with you today.
And if you decide to read any of these, please don't hesitate on letting me know 😀 It would make me the happiest to know you've decided to read any of these or add them to your TBR.
If you've already read any of these please let me know too and tell me about your current reads! Thank you to all of you who stay up to date with my posts & have been following me through this journey. Your love, support and passion for reading is what keeps me going and makes me happier 🙂 I don't have words to express how grateful you all make me!
Spread love always, dear book lovers. I wish this week starts well for all of you, please stay safe. Stay tuned on my instagram, I'm always active there on stories, posts and DMs 😀 Always open for a chat too!
Happy reading book lovers!
Did you spend the last few months reading? Tell me how it went and don't hesitate on commenting your favorite read of the month!
OTHER BOOKS I READ