-A.M. Aguilar
Top 5 July & August Reads
Urban Fiction, Fantasy, YA Mystery, YA Contemporary and a Memoir
August is coming to an end which means that summer is slowly fading away too. I hope everyone has spent their summer nicely, relaxing and overall having fun. Now we cue a cooler weather, leaves falling off trees and drinking hot chocolate every weekend. Autumn is right around the corner! It's my favorite time of the year (after winter, of course) and I am so excited to wear flannels and jackets again. Back to the post though…
A month that passes means another monthly wrap-up to write for you all 😉 . Though some months, like July, I read less than 5 books so I can't share my top books in a wrap-up; hence why today we have another companion post. My top 5 reads of July and August! I read 10 books in total (4 in July) during the past 2 months: from 2,3 star reads to 5 star reads. I have decided to share the best reads of the past two months here. I hope that these mini-reviews and my opinions about these books can spark your interest and make your TBR for July a little bit higher.
Friendly reminder that I always share these mini reviews on my Instagram stories, I am constantly interacting with y'all and updating you with my current reads. Go follow me there if you haven't yet 😀 (@thebookssmuggler). Stay tuned for any announcements and blog updates as well!
If you want to, you can also check out my Top 5 May & June Reads!
Now, let's get started…
Top 5 July & Aug Reads
1. Fire Becomes Her by Rosiee Thor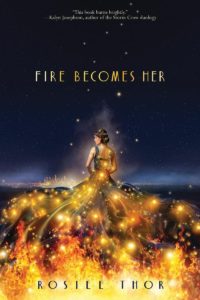 New favorite book unlocked! I really enjoy the way Rosiee Thor's books incorporate both fantasy and politics and, just as their debut "Tarnished Are the Stars," this one follows themes of "Eat the Rich" while also exploring identity, familial bonds, relationships and the different kinds of love we can experience, plus a diverse cast of characters that all shine in their own way (main and side) which is just beautiful to read about. Absolutely enjoyed 🙂 !
Set in a jazz age, fantasy-esque world which just makes the vibes overall to feel more cozy and comfortable to read. The beginning is kind of slow so it's hard to get into because of a new worldbuilding and magic system but after the first 100 pages it's just a seat-gripping and entertaining novel. A politically savvy teen, Ingrid Ellis, must weigh her desire to climb the social ladder against her heart in a world where magic buys votes. Flare is power, and with only a drop of flare, one can light the night sky with fireworks or burn a building to the ground.
Ingrid doesn't have a family fortune, monetary or magical, but at least she has a plan: rise to the top on the arm of Linden Holt, heir to a hefty political legacy and the largest fortune of flare in all of Candesce. Her only obstacle is Linden's father who refuses to acknowledge her; so when Senator Holt announces his run for president, Ingrid uses the situation to her advantage.
She strikes a deal to spy on the senator's opposition in exchange for his approval and the status she so desperately craves. But the longer Ingrid wears two masks, the more she questions where her true allegiances lie… will she stand with the Holts, or will she forge her own path? An incredible journey to see develop <3. Would recommend!
5/5
2. The Many Half-Lived Lives of Sam Sylvester by Maya MacGregor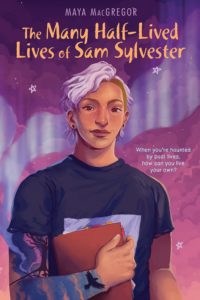 "Every ounce of love is always an act of desperate hope." I am completely fascinated with this book! A new favorite 🙂 . The Many Half-Lived Lives of Sam Sylvester is not an easy read (check the trigger warnings beforehand) but the range of raw, hurting and hopeful emotions this story evokes and transmits is a life-changing experience that I wish everyone could read.
The story of Sam is one that had to be told and one I am grateful to have found, as well as one I hope will be of comfort for many young teenagers who see themselves reflected in Sam as well. I adored this story: from the wonderful cast of characters, the mystery and suspenseful storyline, the neurodivergent representation and the writing style. A masterpiece, with no doubt. This captivating mystery will have you gasping and flipping through the pages as fast as possible just to discover the hidden truths from the small town in Astoria.
Sam Sylvester is not overly optimistic about their recent move to Oregon after a traumatic experience in their home in the rural Midwest. Yet Sam's life seems to be on the upswing after meeting several new friends… Sam is drawn to investigate the death of a teenage boy in 1980s Astoria. They are convinced he was murdered, especially since Sam's investigation seems to resurrect some ghosts in the town.
Threatening notes and figures hidden in shadows begin to disrupt Sam's life, yet Sam continues to search for the truth. When Sam discovers that they may be closer to a killer than previously known, Sam has a difficult decision to make: would they risk their new life for a half-lived one? I won't ever stop recommending this amazing novel. Please check it out! 😀
5/5
3. Ace of Spades by Faridah Àbíké-Íyímídé
Ace of Spades follows the story of two Black teens who become the targets of an anonymous texter "Aces," in Niveous Private Academy. Talented musician Devon buries himself in rehearsals, but he can't escape the spotlight when his private photos go public… And Head Girl Chiamaka isn't afraid to get what she wants, but soon everyone will know the price she has paid for power. Someone is out to get them both, someone who holds all the aces. And they're planning much more than a high-school game. Now Devon and Chiamaka must work together to take them down and stop history from repeating itself…
This novel doesn't just discuss the themes of racism, elitism and white supremacy, but it digs deeper and questions everything about the system with shocking twists and details. Suspenseful, compelling, thrilling and captivating 😉 . This is my favorite kind of book. I loved every second of this novel, the complexity behind every character, the details and intricacies in the well-designed storyline, the unpredictable and jaw-dropping plot twists and revelations in the turn of every page. A solid 10/10. I am OBSESSED <3.
This one is definitely taking a spot in my top favorite reads of 2022. I am completely fascinated, Faridah did an incredible job for her debut novel. A dark academia novel that deals with racism mixed with a badass female lead too. I loved this book. Can't wait to read the author's next novel as well!
5/5
4. I'm Glad My Mom Died by Jennette McCurdy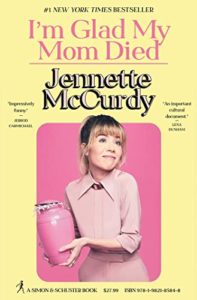 A very peculiar title, I know; but once you read it, it will make sense why Jennette chose this particular line for it. A heartbreaking and hilarious memoir by famous star and actress Jennette McCurdy about her struggles as a former child actor, including eating disorders, addiction, and a complicated relationship with her overbearing mother, and how she retook control of her life. If anyone is interested in reading this memoir, I beg you to check out the trigger warnings first because it isn't a read for everyone, it deals with very sensitive topics and can be a difficult read for some.
If you read it though, you will find an incredibly well written, narrated and developed story. In her 3rd day of publication, Jennette had already become a New York Times Best-Seller and this is well deserved! It is a heart moving, touching and inspiring novel. Jennette McCurdy was six years old when she had her first acting audition. Her mother's dream was for her only daughter to become a star, and Jennette would do anything to make her mother happy. So she went along with what Mom wanted, she was even showered by Mom until age sixteen while sharing her diaries, email, and all her income.
Jennette recounts all this in unflinching detail, just as she chronicles what happens when the dream finally comes true. Cast in a new Nickelodeon series called iCarly, she is thrust into fame. Though Mom is ecstatic, she is riddled with anxiety, shame, and self-loathing, which manifest into eating disorders, addiction, and a series of unhealthy relationships. These issues only get worse when, soon after taking the lead in the iCarly spinoff, Sam &, her mother dies of cancer. Finally, after discovering therapy and quitting acting, Jennette embarks on recovery and decides for the first time in her life what she really wants. An inspiring story of resilience, independence, and the joy of shampooing your own hair as McCurdy said in an interview 😀 .
4/5
5. Forward March by Skye Quinlan
This novel is so well written it will keep you hooked from page 1: the storyline, the drama, the main characters and side characters, the plot twists and powerful lessons in it! AMAZING 🙂 . Forward March is a YA Contemporary novel with all the genre's magic: self-discovery, friendship and family drama, first loves, betrayal and seat-gripping tension. And the romance is perfect too <3. A slow burn that grows off of a strong friendship, and if you know me, then you know I ADORE a good friends-to-lovers romance.
We follow the story of Harper McKinley, a saxophonist in her private boarding school's marching band and also, the daughter of the school's Dean and the candidate running for President. Harper just wants to get through her last year of high school without bringing any attention to herself and focusing on her last year at band… however, the weekend before senior year begins, she learns that someone has been using her name and pictures to catfish on Tinder.
Harper is shocked and embarrassed but together with her friends, they will try to uncover who is behind the fake profile. Skye Quinlan perfectly captures first love, the pressures of high school and all the emotions that go along with that experience through beautiful words that show the true heart of her characters.
Can't stop recommending! All-in-all this book absolutely captivated me, I think the characters are lovable, the sibling's relationship was the sweetest, and I absolutely need a sequel of all these characters being happy and fluffy together. The epilogue isn't enough 😀 .
5/5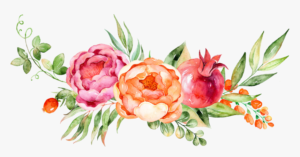 I swear by my name that all the books included in today's monthly wrap-up are incredible and completely worth picking up. Go ahead and read any of these, and will prove my words 😉 . If you do read any of these feel free to let me know, I always enjoy talking with you guys about books and bookish things.
Hopefully you enjoyed this post as much as I enjoyed writing it. Please stay tuned for new updates, I always post about it on my Instagram story so head over there and have your notifications on. I am excited to write new blog posts and hopefully an incoming review too. As always, make sure to check out the books I included in the "Other Books I Read" section.
I hope that everyone has been spending their time well, that you're all safe and sound and as always, taking care of yourself and dedicating time to the things you enjoy! Spread love always, book lovers. Wishing you the best. Happy reading!
Did you spend July and August reading? Tell me how it went & comment your favorite reads of the month too!
OTHER BOOKS I READ