-A.M. Aguilar
Review: Six of Crows by Leigh Bardugo
Captivating, Thrilling Masterpiece
Author of the best-selling Grisha Trilogy, Leigh Bardugo, brings us the Six of Crows duology. Set in the same universe, the Grishaverse, we meet criminal prodigy Kaz Brekker in this unraveling story through the dark and mysterious streets of Ketterdam.
If you haven't checked out the Grisha trilogy I solely recommend it. You can check out my review of Shadow and Bone right here. But even if you haven't read it yet, you'll still enjoy Six of Crows ;). I did some of my reading updates through my instagram stories (come follow me in this bookstagram journey if you aren't already! 😉 @thebookssmuggler ) and if you saw them then you know I was hooked with this book! I couldn't put it down. It was thrilling and an amazing read!
"No mourners. No funerals. Among them it passes as 'good luck.'"
Leigh Bardugo has to be one of my favorite fantasy authors. Her writing style is amazing and the world she created is stunning. This book had me gripped all the time and the plot twists were so unexpected I couldn't help but gasp sometimes. Full of peculiar characters, magic and an impossible heist to complete, Six of Crows will be your new favorite.
Six of Crows is set in little country called Kerch, an island nation with tremendous economic power. If we see the map we can see, Kerch is a little far away from Ravka, where Shadow and Bone was set. Its capital, Ketterdam, is a center for art, culture, and wealth, it is the hub of all international trade. This makes it a perfect place for all the illicit businesses and dangerous trades going around.
The dark side of Ketterdam, where we meet many of our criminal characters, is ruled by warring gangs and fed by the illegal trade of guns, drugs, and slaves. The Barrel is the perfect place for gambling and pleasure; here we meet our main character, Kaz Brekker. No crime is too low, no task too dangerous for Kaz, the thief and gang leader of the Dregs.
The storyline follows his mission for one of the most powerful men in Kerch, of course done for a very high and inconceivable price. He is ordered to infiltrate Fjerda's famous Ice Court; completely impenetrable and guarded. It's a dangerous job, probably a suicide mission, but Kaz will do everything in his power to see it complete.
He will have to assemble a team of assassins, thugs, convicts, and outcast Grisha to help him infiltrate the Ice Court; the only thing that might stand between destruction or the fulfillment of their task, is if they don't kill each other through the journey first.
"When everyone knows you're a monster, you needn't waste time doing every monstrous thing."
What impacted me the most about this book were the interesting characters and their backstories. I feel like this book was perfect to understand all of their histories; and the world building of Six of Crows is beautiful! Something that amazed me was how these backstories impacted the challenges every character had to go through.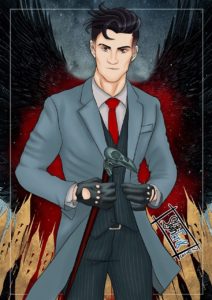 We meet empowered and strong women like Inej and Nina (and they have the sweetest friendship too, for sure), brave men like Matthias who will do anything in order to protect those he holds dear, cunning and dangerous Kaz Brekker who always has a trick below his sleeves, and our favorite pair Jesper and Wylan, who save the day but also show us a little what sacrifice is.
The characters all had their unique and charming personalities and the reader gets to know each closely and even relate to many of them. That's way the ending is so surprising and grabs us unexpectedly.
As I've said before I am amazed by Leigh's writing style and the Grishaverse she created 🙂 . At first I thought the multiple POVs were going to be confusing, but it is easier to follow the storyline through all the characters perspectives and it lets you get to know each character more personally.
"We are all someone's monster."
Definitely you need to pick up this book! Leigh Bardugo is a talented fantasy author and her stories will grip you entirely. You will not regret adding this book to your list and enjoying it fully.
A super exciting and thrilling adventure with unique and relatable characters through the lands of Kerch on their way to perform an impossible heist.
Have you read Six of Crows? What are you thoughts on it?
I can't wait for book two. I'll be reading it immediately!
"Ketterdam: a bustling hub of international trade where anything can be had for the right price—and no one knows that better than criminal prodigy Kaz Brekker. Kaz is offered a chance at a deadly heist that could make him rich beyond his wildest dreams. But he can't pull it off alone.

A convict with a thirst for revenge. A sharpshooter who can't walk away from a wager. A runaway with a privileged past. A spy known as the Wraith. A Heartrender using her magic to survive the slums. A thief with a gift for unlikely escapes. Kaz's crew is the only thing that might stand between the world and destruction—if they don't kill each other first."