-A.M. Aguilar
Top 5 March & April Reads
Mystery & Horror Fiction, Fantasy, High Fantasy & YA Fiction, Contemporary
It's officially the fifth month of 2021, May just started and that means we are getting closer to mid-year. It also means we are all posting our monthly reading wrap ups; today I'm posting both March and April's because I forgot to write it last month 🙂 so thank you all for your patience. The books I will talk about today are all part of my all-time favorite books shelf <3
During the last two months I read many books and therefore I discovered some of my new favorite authors. If you've been following me on Instagram, then you may have seen me gush and fangirl over many of these in my stories and posts 😀 OH! And we just hit 1.4k this week <3 My biggest thank you to all of you for your support, encouraging messages, love and overall for keeping up with my posts!
I'm really the most grateful to have you all and to meet many of you from all over the world, book lovers. Creating this blog (HAPPY ONE YEAR ANNIRVERSARY TOO!) and bookstagram (@thebookssmugler), has been an amazing journey and one of the best decision I could ever take. Thank you from the bottom of my heart. I really appreciate it.
Now back to the post 😉 In March I finished online classes and my vacations started, so I was able to spent more time reading than before. I guess that was a small mistake I did during college time, where I didn't take breaks between classes or after finishing assignments but rather stressed myself with lots of things to do, when I could've really just rested for a few minutes. So if you're in this kind of situation, please take some time off and relax, take breaks, I promise you that taking care of your mental health is necessary. Do it for yourself!
In the last two months, I read my first horror historical fiction, which I am the most excited to tell you guys about! I also fell in love with Alice Oseman's books and the characters she has created, and read my first graphic novels too 😀 I think I mostly read YA Contemporaries and Fiction, so I'll tell you about some of these.
Of course, with monthly wrap ups all over the place, it is always a good time to remind ourselves that reading is not a task and that we should always read the books we want to, and not pressure ourselves with strict TBRs nor a specific number. I've learned it the hard way, and I wouldn't want anyone else to go through that; so remember that a number of books don't determine if you're a good or bad reader. There's no such thing 😉
In this post I will be focusing on my top 5 reads from March and April. It was really hard to choose only five books because I read so many amazing and astounding books, sequels and novels. But, I hope you will like these, and possibly add some new books to your TBR 🙂
If you want to, you can also check out my Top 5 Jan & Feb Reds !
With nothing more to say, let's get started…
Top 5 Mar & April Reads
1. Stalking Jack the Ripper by Kerri Maniscalco
Trigger Warnings: autopsies, character death, dead bodies (graphic), death, drug abuse, murder (off screen, serial), organ transplants, smoking and toxic parenting.
PLEASE. READ. THIS. BOOK. I promise you it is so good! From the incredible writing to the setting and descriptions, dauntless and brave main characters, academic rivals, suspense and murder mystery. This historical fiction, creepy novel has a storyline inspired by the Ripper murders in 1988 and an unexpected, blood-chilling conclusion.
Seventeen-year-old Audrey Rose Wadsworth was born a lord's daughter, with a life of wealth and privilege stretched out before her. But between the social teas and silk dress fittings, she leads a forbidden secret life. Against her stern father's wishes and society's expectations, Audrey often slips away to her uncle's laboratory to study the gruesome practice of forensic medicine.
When her work on a string of savagely killed corpses drags Audrey into the investigation of a serial murderer, her search for answers brings her close to her own sheltered world. A story of suspense, mystery, love and betrayal, and an infamous cause for vengeance.
I was shocked when I found out this is Kerri Minescalcos's debut novel; IT IS SO WELL DONE! She outdid herself, Stalking Jack the Ripper is a masterpiece. I definitely recommend this book to everyone! The story's shocking twists and turns, augmented with real, sinister period photos, will make this impossible to forget 🙂
5/5
2. Radio Silence by Alice Oseman
Alice Oseman has become one of my favorite authors and I've got to say that Radio Silence is part of the reason why 😉 Her books always following themes, and those of Radio Silence where truly inspiring and worthwhile. Personally, I think everyone should read this book, and it is even more for teenagers who are coming of age, from high school to college, etc. I wish I had read it earlier too <3
This book follows themes of identity, existential crisis over the future and university, mental health, the freedom to choose and speak our truths, and diversity. Radio Silence is the story of Frances, who has been a study machine with one goal all her life. Nothing will stand in her way; not friends, not a guilty secret; not even the person she is on the inside. Then Frances meets Aled, and for the first time she's unafraid to be herself.
Aled, a boy who longs to be himself and who lets his creativity flow through a story of his own. Frances and Aled meet in the right moment and begin an incredible friendship while supporting each other through their own battles. So when the fragile trust between them is broken, Frances is caught between who she was and who she longs to be. Now Frances knows that she has to confront her past, and to confess why Cary has disappeared…
If you've been meaning to read more books by Alice Oseman, I'd suggest starting with Radio Silence. It is truly a heartwarming and surpassing story. A fast-paced, light and fun read, with incredible messages and stories. Especially if you're a fan of Contemporary and YA Fiction, this book is perfect for you.
4/5
3. Summer Bird Blue by Akemi Dawn Bowman
This book broke my heart in pieces, and it hurt so much to read it… but at the same time it was a necessary story of self-growth and healing to read. This book explores topics like grief, family, love and friendship. Summer Bird Blue is beautifully written and teaches so many lessons like how to forgive even when it feels impossible.
Rumi Seto spends a lot of time worrying she doesn't have the answers to everything. What to eat, where to go, whom to love. But there is one thing she is absolutely sure of: she wants to spend the rest of her life writing music with her younger sister, Lea. Then Lea dies in a car accident, and her mother sends her away to live with her aunt in Hawaii while she deals with her own grief.
Now thousands of miles from home, Rumi struggles to navigate the loss of her sister, being abandoned by her mother, and the absence of music in her life. With the help of the Kai, who smiles too much and doesn't take anything seriously, and an eighty-year-old man George Watanabe, who succumbed to his own grief years ago, Rumi attempts to find her way back to her music, to write the song she and Lea never had the chance to finish and heal her heart.
It is achingly powerful, and unflinchingly honest; I really hope more people can read this beautiful book! Everyone should. And if you do, please let me know so we can talk about it 😀
5/5
4. City of Strife by Claudie Arseneault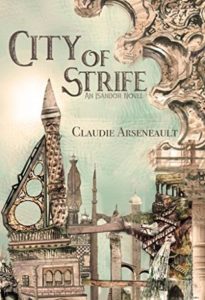 THIS BOOK DESERVES MORE HYPE. I can't believe I haven't seen more people talk about it. City of Strife is a political fantasy novel, with amazing world building and a diverse cast of characters, that follows multiple points of view from the people of Isandor, the City of Spires; and it has an amazing magic system! I will never shut up about it so you should just give in and read it already 😉
A hundred and thirty years have passed since Arathiel last set foot in his home city. Isandor hasn't changed, bickering merchant families still vie for power through eccentric shows of wealth. But he has and his family is long dead. A magical trap has dulled his senses, and he returns seeking a sense of belonging now long lost.
Arathiel hides in the Lower City, piecing together a new life among in a shelter dedicated to the homeless and the poor. Here, he meets an uncommon trio of people who become friends with him, but when Hasryan is accused of Isandor's most infamous assassination of the last decade, what little peace Arathiel has managed to find for himself is shattered. Hasryan is innocent, he thinks. So in order to save him, Arathiel may have to shatter the shreds of home he'd managed to build for himself.
In the ripples that follow Diel's opposition, friendships shatter and alliances crumble. Arathiel, the Dathirii, and everyone in Isandor fights to preserve their homes, even if the struggle changes them irrevocably.
City of Strife is the first installment of the City of Spires trilogy, the sequel is out already and I really can't wait to get back to this world. I recommend this book so much. Fans of complex storylines crisscrossing one another, elves and magic, and strong friendships with found families will find everything they need within these pages.
5/5
5. Loveless by Alice Oseman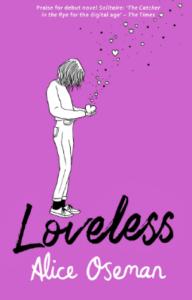 This is one of my favorite books ever and I think it takes the spot as my #1 favorite book by Alice Oseman too. If you want to read a warm and witty story of identity and self-acceptance, friendship, found family, love, plus a diverse cast of characters, Loveless is the perfect choice.
The book follows the story of Georgia who has never been in love, never kissed anyone, never even had a crush, but as a romantic-comedies obsessed fan girl, she's sure she'll find her person one day. As she starts university with her best friends, Pip and Jason, in a whole new town far from home, Georgia's ready to find romance, and with her outgoing roommate on her side and a place in the Shakespeare Society, her 'teenage dream' is in sight.
But when her romance plan wreaks havoc amongst her friends, Georgia ends up in her own comedy of errors, and she starts to question why love seems so easy for other people but not for her. Georgia is more uncertain about her feelings than ever.
We follow the story of a character who learns the value of friendship and family, taking care of those next to you and building your own future too. I promise this book is so, worth it! You will love every single character, that's the magic of Oseman's books 😉 Georgia and her friends discover that true love isn't limited to romance.
5/5
I hope you're excited to read some of these incredible books I've shared with you today. Especially Alice Oseman, I promise that this books are worth it :)) As I told you guys in one of my Instagram posts, I've been finding incredible books and authors this year, and I love sharing this memorable and beautiful books with you guys, I can only hope you guys enjoy it too!
If you ever pick up one of these PLEASE LET ME KNOW! I would be honored <3 And if you've already read any of these please let me know too and tell me about your current reads and the books you read in April. Did you read any favorites?
Thank you to all of you who stay up to date with my posts & have been following me through this journey. Your love, support and passion for reading is what keeps me going and makes me stay 🙂 I don't have words to express how grateful I am, thank you truly!
I hope you are all safe and taking care during this situation; I know that things are getting complicated in many countries and I understand you well because we're struggling here too… but let's not lose hope and keep moving forward. I wish you all the best! Stay safe and stay healthy.
Spread love always, dear book lovers. And stay tuned, for I have some exciting posts and reviews coming soon. You can always stay up to date with my content through my Instagram, I'm always active there on stories, posts and DMs so make sure to follow me and let's interact there 😀
Happy reading book lovers!
Did you spend the last few months reading? Tell me how it went down below in the comments & your favorite read of the month too!
OTHER BOOKS I READ