-A.M. Aguilar
Top 5 June 2020
Science Fiction, High Fantasy and Adventure Fiction
June is already over, which means, we are halfway through the year! 2020 has definitely been a rollercoaster of events and feelings, but we have to hope things will get better and our world will heal. We have been growing a lot on instagram, (635 followers and counting :D, if you want to join the fam click here! ), and we have also been dealing with online classes. One more month and classes will be over.
I have read 62 books already and I am hoping to read many more. (100 is the goal 🙂 ) This month I finished 10 amazing books and I will be sharing five of these gems with you guys today. This month has been full of stunning stories, beautiful sequels and lots of crying 😉 !
This month I began my now considered favorite series: The Aurora Cycle, I dived into many books from Paulo Cohelo that I absolutely loved, I did some re-reading and finished some amazing series too!
I hope everyone is staying safe and healthy during this times of struggle and it is okay if you invest your time reading or not. Doing whatever you love to do and have the time to enjoy is what matters 🙂 . Now let's get started with the highlights of the month and hopefully you will be able to add some of these incredible books to your TBR pile.
If you want to, you can also check out my Top 5 May reads here!
Top 5 June Reads
1. Aurora Rising by Amie Kaufman and Jay Kristoff
I talked about this book cover on my last post (My favorite book covers, you can check it out here!) and I mentioned how excited I was to read it. After reading this book I discovered how much I love Science Fiction. You can check out my review for this book right here!
"Aurora Rising" is book one in the Aurora Cycle series. The year is 2380, and this book follows the story of the graduating cadets of Aurora Academy in their first missions. Tyler Jones is ready to recruit the squad of his dreams, but his own heroism sees him stuck with the dregs nobody else in the Academy would touch. With Auri, the girl out of time, and his new squad, Tyler might just be the last hope for the entire galaxy against its threats.
It is such a fun and exciting read. You for sure won't regret reading this book, even if you are not a fan of science fiction, this book is astounding and perfect for all readers!
4.5/5
2. The Alchemist by Paulo Cohelo
As you may know already, I have been captivated by Paulo Cohelo's writing style and the messages his books leave. I mentioned in my monthly wrap for May's readings, how much I admired "Veronika Decides to Die" and the message I learned from it. I figured I had to read Paulo Cohelo's worldwide best-selling novel "The Alchemist."
You can check out my review for this book right here!
The book follows the simple but remarkable story about a shepherd boy, Santiago, who decides to follow his destiny towards his treasure and in the journey learns many lessons from fellow characters.
I will never regret reading this book; it definitely is one of those books you can read as many times as you want, and you will always learn something valuable from it. The best part has to be the dazzling lessons shown in these pages; if you haven't already, check out this stunning book and many others from Paulo Cohelo.
5/5
3. Ruin and Rising by Leigh Bardugo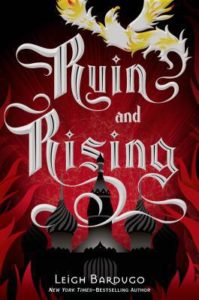 "Ruin and Rising" is book three in the Grisha Trilogy (One of my favorite trilogies of all time 😉 ) and follows the last battle against The Darkling. This world is fulled of a magical group of people, the Grisha, who practice the Small Science: they manipulate different elements of nature as their own power. Ravka's fate rests in Alina and the new alliances she has to forge as they race to find the last of Morozova's amplifiers and defeat the darkness that spreads through the Fold.
I did a review on book one, "Shadow and Bone" a few weeks ago (you can check it out here!), and I for sure recommend this trilogy if you're a fan of High Fantasy! I was astounded when I read these books, I loved the world Leigh Bardugo created with the fascinating characters and the interesting storyline they followed. Leigh Bardugo's writing style and the amazing universe she created is incredible. The Grishaverse.
Leigh Bardugo created a whole world of fantasy that I could not stop myself from loving. You need to check out this trilogy! You will never regret it!
4/5
4. City of Lost Souls by Cassandra Clare
This is book five in the best-selling Mortal Instruments series. I am doing a re-read of the series with a close friend this year and I figured I will never get tired of these stunning books! Shadowhunters are my favorite and I will never have enough of Clare's ravishing style and fiction: demons, demon hunters, werewolves, vampires, fairies and warlocks. ?
Last week I did a review on book one, "City of Bones, and you can check out that reviewso you can get into this amazing Shadowhunters world. "City of Lost Souls" picks up right after "City of Fallen Angels" and Clary is horrified to discover that the demon Lilith's magic has bound her beloved Jace together with the evil Sebastian. It is up to Clary to destroy the bond and protect the world from Sebastian's plan and bargain with Seelies and demons. Love, blood, betrayal and revenge. This books are a fun and exciting read full of unique characters that you can't help but love!
Check out the Mortal Intruments saga and tell me how you like them! You will love Cassandra Clare's storylines and plot twists 😉 .
3/5
5. Winter by Marissa Meyer
The Lunar Chronicles are all retellings of our favorite fairytales and Winter is not the exception. As you may guess, this is a retell of Snow White with a touch of Science Fiction. We also get to follow the story of our fellow characters from Cinder, Scarlett and Cress in their ultimate battle against the Lunars and defeating Queen Levana.
On April I mentioned I read "Cress" the third installment in the Lunar Chronicles (Check out my Top 5 April reads here!) and this month I was able to finish the series with Winter. It was a huge book but everything that happened was necessary and great for the ending. It was a super fun and fast-paced read. I definitely recommend reading The Lunar Chronicles if you are a Science Fiction fan and also like a bit of Romance 😀 .
3.5/5
Hope you enjoy these books too and if you have read any of these feel free to tell me down below everything you loved about them! Happy reading!
Did you spend June reading? Tell me how it went and share with me your favorite reads of the month!
OTHER BOOKS I READ