-A.M. Aguilar
Top 5 May 2020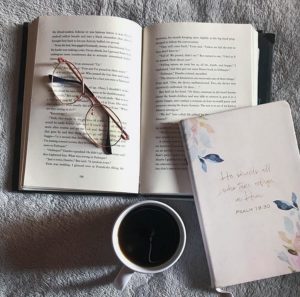 High Fantasy, Romance, Fiction and Psychological Fiction :0
This month was full of good books and amazing sequels! Aside from beginning this beautiful journey of book blogging (and bookstagram 🙂 check my account down below), in May I had the chance to read and begin online classes. I finished 7 amazing books and I will be sharing five of these gems with you guys today.
This month I began my now considered favorite series: The Grisha Trilogy; I also read some sequels to the books from April and found two incredible books from remarkable authors 😀 .
I hope everyone is staying safe and healthy during this times of struggle and it is okay if you invest your time reading or not. Doing whatever you love to do and have the time to enjoy is what matters 🙂 .
Now let's get started with the highlights of the month… and hopefully you will be able to add some of this incredible books to your TBR pile 😀 .
If you want to, you can also check out my Top 5 books for the month of April.
Top 5 May Reads
1. Veronika Decides to Die by Paulo Cohelo:
This is a very intresting book and I would say a very deep read too. Most of Paulo Cohelo books are like these and in book particularly, he addresses the fundamental questions asked by millions: What am I doing here today? and Why do I go on living?
Thanks to this book being set in a psychiatric hospital, we are drawn to the real meaning of madness and we get to understand the reality behind the individuals who do not 'fit' into patterns society of normal and are sent to places 'fit' for them.
Twenty-four-year-old Veronika seems to have everything she could wish for yet something is lacking in her life. So, on the morning of November 11, 1997, Veronika decides to die. Naturally Veronika is stunned when she does wake up at Villete, a local mental hospital, where the staff informs her that she has partially succeeded in achieving her goal. While the overdose didn't kill Veronika immediately, she has damaged her heart so severely that she has only days to live.
The story follows Veronika through the intense week of self-discovery that the situation has brought and to her surprise, Veronika finds herself drawn to Villete and its patients, who are in an individual way, the reflection of human experience.
Based on events in Coelho's own life, Veronika Decides to Die is an illuminating read for sure! It makes you question many things of life. I was hooked since the beginning. Definitely recommended!
5/5
2. Shadow and Bone by Leigh Bardugo:
Shadow and Bone is book one in The Grisha Trilogy. I fell in love with this series so much that it became my new favorite! I can't even begin to explain how much I was captivated by the world Leigh created, the fascinating characters and the storyline they followed. I actually did a review on this book if you would like to check it out 🙂 Click here!
But for all who haven't; this book follows the story of Alina's adventures and journey through the royal court of Ravka and her adapting to the Grisha elite lifestyles. This world is fulled of a magical group of people, the Grisha, who practice the Small Science: they manipulate different elements of nature as their own power. The book continues to unfold with all the adventures Alina has to go through and the stunning plot twists and surprises we get from characters we didn't expect were going to turn their back on what's right.
This book is precious, you should definitely check it out if you're a fan of Fantasy or High Fantasy. You will not regret it 🙂 . (Full review here!)
5/5
3. City of Ashes by Cassandra Clare:
As I explained on the last post, I am buddy-reading The Mortal Instruments with one of my closest friends this year. It is actually a reread for me (I'm a super fan of Shadowhunters 😀 ) but I still enjoy reading about this unique characters again and the amazing world Cassandra Clare has created. A world where fairies, vampires, werewolves, warlocks and demon hunters fight against evil and demons.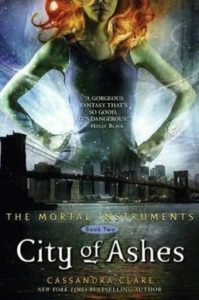 City of Ashes is book two in The Mortal Instruments series. (If you want to read my short explanation of City of Bones, book one, you can check out My Top 5 Reads of April). After reading City of Bones I was captivated with this series and I had to know what was going to happen with Valentine, our villain, and with the new revelation Clary and Jace received in the last book.
City of Ashes begins with a situation that complicate matters for our fellow Shadowhunters and Downworlders: someone in New York City is murdering Downworlder children. Is Valentine behind the killings? What is he trying to do? When the second Mortal Instrument, the Soul-Sword, is stolen; the terrifying Inquisitor arrives to investigate and zooms right in on Jace. Clary now has to find the way to stop Valentine even if Jace is willing to betray everything he believes to help Valentine
Amazing, thrilling adventures that our character's go through and the development of Clary and Jace's powers that make the story so much more exciting 🙂 . City of Ashes is a great read! If you haven't checked them out, you definitely need to read The Mortal Instruments!
3.5/5
4. City of Glass by Cassandra Clare: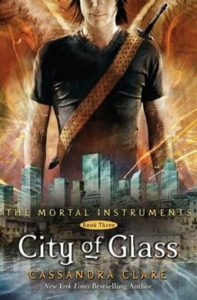 City of Glass has to be my favorite book in The Mortal Instruments series 😀 . It is also one of the best reads I had in 2019 (You can check out that post right here!) I loved this book because after City of Ashes and the cliffhanger we were left in, we finally get to see Shadowhunter's city of glass, Idris and the Mortal War shadowhunters must fight there.
As Clary uncovers more about her family's past and tries her best to save her mother, she finds an ally in a mysterious Shadowhunter Sebastian. Along with the characters we know already and the stunning new ones, we follow the story of the shadowhunters' Law, city and upcoming War. With Valentine mustering the full force of his power to destroy all Shadowhunters forever, their only chance to defeat him is to fight alongside their eternal enemies, downworlders.
This books are a must read for Fiction lovers and if you haven't checked Cassandra Clare's amazing writing and storylines, this is your chance. New York Times Bestseller; The Mortal Instruments. I hope you do read them and see by yourself why City of Glass is such a captivating story!
4.5/5
5. Call Me By Your Name by Andre Aciman:
This book had been recommended to me for a long time and I finally decided to read it this month; I have no regrets. This book was such an interesting read. To begin with, Andre Aciman's writing style amazed me every single page. You're literally inside Elio's mind all book reading about his thoughts, his feelings and his memories and it just makes the story so interesting because you get to see everything about his side of the story. You can deeply feel what Elio has to go through in the book; I was touched with the ending and couldn't help shedding some tears.
Call Me By Your Name is the story of a sudden and powerful romance that blossoms between an adolescent boy and a summer guest at his parents' cliff-side mansion on the Italian Riviera. They're both unprepared for the consequences of their attraction, and at first each feigns indifference, but during the restless summer weeks that follow, buried feelings of obsession, fascination and desire intensify in their relationship. An experience that marks them for a lifetime.
This is such a heartwarming story and a book I really recommend. It for sure makes you view life and people around you from a different perspective. You must add it to your tbr pile (even if it is too big already 😉 ).
4/5
Hope you enjoy this books too and if you have read any of this books feel free to tell me everything you loved about them in the comments below ? Happy reading!
Did you spend May reading? Tell me how it went and share with me your favorite reads of the month!
OTHER BOOKS I READ