-A.M. Aguilar
Review: City of Bones by Cassandra Clare
Supernatural Exhilarating Novel
"City of Bones" is book one in the best-selling series The Mortal Instruments by Cassandra Clare. Set in New York, 2007, this is the sequel to The Infernal Devices series. (You can check out my review for "Clockwork Angel" right here.) An urban fantasy where we are immersed in a world of Shadowhunters and Downworlders.
"The boy never cried again, and he never forgot what he'd learned: that to love is to destroy, and that to be loved is to be the one destroyed."
When fifteen-year-old Clary Fray heads out to the Pandemonium Club in New York City, she hardly expects to witness a murder. A murder committed by three teenagers covered with strange tattoos and surprising weapons. Clary is pulled into the Shadowhunters world when her mother disappears and she is attacked by a demon. Now Clary has to unite forces with this group of warriors to save her mother and stop the wicked villain, Valentine Morgenstern.
Cassandra Clare's books follow the adventures of the brave Shadowhunters, humans blessed by the angel Raziel who are trained to kill demons and other supernatural monsters; with the help of some Downworlders every once in a while. Downworlders are all warlocks, werewolves, vampires and fairies that live as renegades from The Clave. The government and Law of the Shadowhunters.
When Clary witnesses a murder, committed by teenagers full of strange tattoos and weapons, and realizes she is the only one in the Pandemonium Club who can see it, she freaks out. Especially when the victim vanishes into thin air after being killed. Not a day later, her mother disappears and her apartment is attacked by ravenous Demons. She kills the demon by herself, but not before she's bitten and passes out.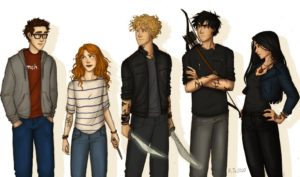 Poisoned, Clary is carried to the Institute, a haven for Shadowhunters from all over the world, by Jace, who introduces her to a few other Shadowhunters. Alec Lightwood, who has never killed a demon in his life, and Isabelle Lightwood, a fierce and appealing lady. Their parents are the heads of the New York Institute and ally with Clary to enter Downworld and discover the secrets hidden in Clary's memories with the help of our favorite warlock, Magnus Bane.
Their job now is to find the Mortal Cup, one of three blessed Mortal Instruments of Shadowhunters, which that hold the keys to her mother's future and finding. After some characters' betrayment the Cup is hand over to the villain, Valentine. It is now they're turn to fight his army of Forsaken and save Clary's mother plus the future of the Shadowhunters.
"Where there is love, there is often also hate. They can exist side by side."
As you may know, I'm a huge fan of Shadowhunters and what makes me love these books are the stupendous storylines Cassandra Clare designs for this characters. You are reading the plot of the book but you are also invested in the history of the shadowhunter families, the "easter eggs" from the prequels, the bigger plan that Valentine is building for his rebellion, and the slowly growing romance between the characters.
"City of Bones" is a thrilling novel, it keeps you hooked and wanting to know more about the secrets of The Clave, the old Shadowhunters family and the truth behind Clary's history. It has a very urban and young adult writing style and it creates the perfect setting of modern times, 2007.
One of my favorite things from these books are the unique and charming characters. From our main character Clary and her Shadowhunter friends (Jace, Alec, Isabelle) to the side characters like Simon, Luke, Maryse, Hodge. They are all important to the plot and play an interesting role.
"Seeing through glamour is easy. It's people that is hard."
If you are a fan of fiction and supernatural creatures (this book has them all; vampires, werewolves, warlocks, fairies, demons and of course magic) and haven't checked The Mortal Instruments series yet, you have to give it a try. You won't regret it and I hope you will also love this eccentric and exciting characters.
Have you read City of Bones or The Mortal Instruments series? Tell me your thoughts down below!
"When fifteen-year-old Clary Fray heads out to the Pandemonium Club in New York City, she hardly expects to witness a murder― much less a murder committed by three teenagers covered with strange tattoos and brandishing bizarre weapons.

This is Clary's first meeting with the Shadowhunters, warriors dedicated to ridding the earth of demons. It's also her first encounter with Jace, a Shadowhunter who looks a little like an angel and acts a lot like a jerk.

Within twenty-four hours Clary is pulled into Jace's world with a vengeance when her mother disappears and Clary herself is attacked by a demon. But why would demons be interested in ordinary mundane like Clary and her mother? And how did Clary suddenly get the Sight? The Shadowhunters would like to know."