-A.M. Aguilar
Top 5 April 2020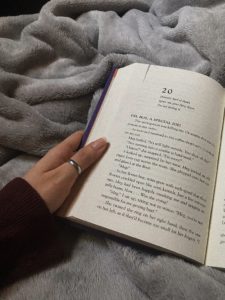 Fiction, Romance, Humor, Fantasy and High Fantasy
I began this blog on May (and it has been a sweet journey, especially the diving into bookstagram 😉 ) but I figured I needed to share with you guys the highlights April reading brought!
April was an exciting month because I finished online classes at college (I hope everyone is staying safe and healthy during this times of struggle) and I was able to read some more than before and do some journaling. This year my goal is to read at least 8 or 10 books per month so I can achieve my goal of 100 books.
In April I read 10 books, but I will be diving into my top 5 books of the month 😀 . I read books from many genres as you can see by the title. It was such a rollercoaster of emotions in every single book. I laughed so much with many of them but I also cried a lot (shoutout to Crescent City) with the saddest endings or the most beautiful ones. I am also super excited for many sequels this books have!
Hopefully you will be able to add some of this incredible books to your TBR pile 🙂 . Let's get started…
Top 5 April Reads
1. Cress by Marissa Meyer:
This is actually book three in the Lunar Chronicles. The Lunar Chronicles follow the story of sixteen-year-old Cinder who is considered a technological mistake by most of society and a burden by her stepmother plus the Lunars invasion of Earth. Marissa Meyer did an amazing job with retelling all of our favorite fairytales: Cinderella, Red Riding Hood, Rapunzel and Snowhite, and adding a touch of fiction, magic and charming romances.
I am so fascinated with this series, I am curently in book four but I adored "Cress" so much and I fell in love with the alluring and attractive characters! (My weaknesses 😉 ) I loved the character's development and the surprises we found about Queen Levana and the lost princess Selene. I recommend this book to those fiction/science fiction lovers out there and anyone that wants to read an exciting and intriguing plot!
4/5
2. You Deserve Each Other by Sarah Hogle
Naomi Westfield has the perfect fiancé: Nicholas Rose who holds doors open for her, remembers her restaurant orders, and comes from an upstanding society family. They never fight and they preparing for their wedding that's three months away. But Naomi is miserably tired of him.
This book deserves attention. It was a very fun and captivating plot and the relationship of lovers-to-enemies-to-lovers Sarah Hogle created was engaging and captivating. I laughed and cried along with the characters and I loved both their development and personalities.
I was originally attracted to this book by its curious storyline and interesting title. When I began reading I found myself reading nonstop. It was like playing a movie in my head with the intriguing plot. I so recommend this book to everyone who is a fan of romantic comedies 🙂 .
5/5
3. House of Earth and Blood by Sarah J. Maas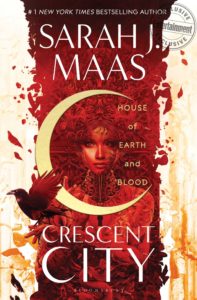 Sarah J. Maas makes you love the charming characters and settings she fabricates and that's no exception with "House of Earth and Blood." I was fascinated with the main character she developed, Bryce, and her incredible personal growth. As Bryce and her mysterious investigation partner dig deep into Crescent City's underbelly, they discover a dark power that threatens everything and everyone they hold dear, they must solve the mysteries that unfold and discover new magic and powers to save the world they know.
I am in love with the story that Sarah J. Maas created this year for her new saga "Crescent City." I am a huge fan of Sarah J. Maas' writing style and authenticity. She's the type of author that captivates you in the first pages and once you think you've got the whole plot figured out she drops twist after twist that simply complete the gorgeous storyline she designed.
I genuinely recommend this astonishing book to fantasy and high fantasy lovers! It was amazing!
5/5
4. City of Bones by Cassandra Clare
"City of Bones" is book one in The Mortal Instruments series. I am doing a re-read with a close friend this year and I figured I will never get tired of these stunning books! Shadowhunters are my favorite books and I will never have enough of Clare's ravishing style and fantasy: demons, demon hunters, werewolves, vampires, fairies and warlocks. 😉
"City of Bones" follows the life of a young girl, Clary Fray, that founds herself involved in the world of Shadowhunters, warriors dedicated to rid the earth of demons, and Downworlders in search of her dissapeared mother and encounter the terrible villain, Valentine Morgenstern. I will be doing a review soon but if you are a fan of Fantasy this is a must read! Cassandra Clare's writing is captivating and her irresistible story developments.
4/5
5. Red, White and Royal Blue by Casey McQuiston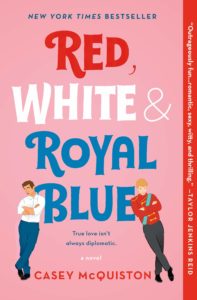 Son of the first women President of the United States, Alex Claremont-Diaz was promptly cast as the American equivalent of a young royal. He is a handsome, charismatic and genius guy marketing gold for the White House. There's only one problem: Alex has a mysterious lover which the world can't know about. And when the tabloids get hold of a photo involving their altercation, U.S. and British relations take a turn for the worse.
McQuiston writes an arresting style and does a good job in telling Alex's story and discussing both of the character's individual aspirations, their concerns about the future of their respective countries, and their efforts to help the minor communities. McQuiston also walks us through the reality of a sitting female president who won the 2016 election and throws us into the political cesspool of a fictional 2020 reelection.
This book was fun to read and pretty interesting. It a lighthearted, and empathic story with a humor and forbidden romances. I read this book because of all the incredible reviews I read and it met my expectations. Personally, it was not the best Romantic Comedy but it does represent a whole category of books that might've helped many young people out there that go through the same struggles 😀
3.5/5
Hope you enjoy this books too and if you have read any of this books too feel free to tell me everything you loved about them in the comments below 🙂
Did you spend April reading? Tell me how it went and share with me your favorite reads of the month!
OTHER BOOKS I READ