-A.M. Aguilar
Top 5 July 2020
Science Fiction, Fantasy Fiction, and Young Adult Fiction
I can't believe July is already over. We're officially about to begin the 8th month of 2020. Wow! Can you believe it? This month actually felt like one of the longest so far. I hope you all had a beautiful month and that you remained doing the things you love the most. Feel free to tell me down below how did you spent your month 🙂 .
This month was one of the longest for me and I think that is because I did not spent it reading much. Which is funny when you think about it because when I do spent time reading, time goes by so fast! But that was not the case this month.
Either way, I had the privilege of enjoying 5 books the first week and a half, and I want to share this amazing books with you guys today. The two books I've included in the "Other Books I Read" are my current reads before the month is over 😉 .
Many other things have been happening. I think this was one of those months were I dwelled on my thoughts too much; I took sometime off reading and of social media for a while and tried to concentrate on other things I love too (like writing and music).
If I want something to stay in your mind after today's post is that sometimes we need moments to restart and refresh our minds. It's okay if you don't read much, it's okay if you take sometime for yourself and dedicate time on finding your inner peace and doing the things you love 😉 .
All of that said, I want to thank all of you who stay up to date with my posts and have been following me through this journey. Thank you for your support everytime. It's a huge privilege to have you all listen to what I have to say! Also we're so close to 1K followers on instagram 😀 (@thebookssmuggler) and I don't have words to express how happy and grateful that makes me! Stay tuned for a giveaway very soon 😉
This month I read one of my now considered favorite Fantasy series, amazing sequels to last month books and found other favorite books I will forever treasure. Let's get started with the highlights of the month and hopefully you will be able to add some of these incredible books to your TBR pile 🙂 .
If you want to, you can also check out my Top 5 June reads here!
Top 5 July Reads
1. Six of Crows by Leigh Bardugo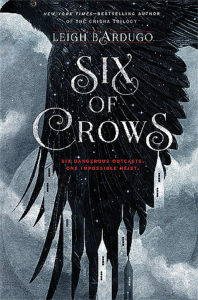 I am a big fan of Leigh's books, and I have talked about the Grisha trilogy before and how amazing her writing style and worldbuilding is. This month I read more books from the Grishaverse with Six of Crows.
If you follow me on bookstagram then you are aware of the book haul I made at the beginning of July. I got four new books and I was super excited to read them all. The first book I began was "Six of Crows" and I can't even express how much I loved it! I'm more than excited to begin book two.
You can check out the review I wrote right here. Six of Crows follows the story of Kaz Brekker, best criminal in Ketterdam, and his mission for one of the most powerful men in Kerch. He is ordered to infiltrate Fjerda's famous Ice Court; completely impenetrable and guarded. It's a dangerous job, probably a suicide mission, but Kaz will do everything in his power to see it complete with the team he assembles of assassins, thugs, convicts, and outcast Grisha. The only thing that might stand between destruction or the fulfillment of their task, is if they don't kill each other, through the journey, first.
I for sure recommend this duology if you're a fan of High Fantasy like me. I love the world Leigh Bardugo created with the fascinating characters and the interesting storyline they follow. You will never regret it!
4.5/5
2. The Starless Sea by Erin Morgenstern
This book had me hooked! At first I felt kind of lost but when I started understanding the way this book is written with all the short stories connecting with the main plot; I knew it was a masterpiece. I enjoyed The Starless Sea a lot!
The storyline tells the plot of Zachary Ezra rawlings in his seach for the door that leads to the Starless Sea. The entryways that lead to this sanctuary are often hidden, sometimes on forest floors, sometimes in private homes, sometimes in plain sight. But those who seek will find their doors, which have been waiting for them. A bee, a key, and a sword emblazoned on the book lead Zachary to two people who will change the course of his life: Mirabel, a fierce, pink-haired painter, and Dorian, a handsome, barefoot man with interesting alliances.
This is an astounding book and Erin Morgenstern's writing style is precise and deep at the same time. You will definitely love this story if you are into Fantasy Fiction. A timeless love story unspools, casting spells of pirates, painters, lovers, liars, and ships that sail upon a Starless Sea.
4/5
3. What I Carry by Jennifer Longo
This book was my second choice for #The Besties Readathon and I fell in love with this story. I shred some tears too; it was beautiful. You can check out the post I made about my first reading challenge right here; I also mentioned this book on "My Favorite Book Covers."
Growing up in foster care, Muir has lived in many houses. And if she's learned one thing, it is to pack light. Carry only what fits in a suitcase. There's no room for any additional baggage. Muir has just one year left before she ages out of the system. One year before she's free. One year to avoid anything–or anyone–that could get in her way. Then she meets Francine. And Kira. And Sean. And everything changes.
I loved the main character's development; Muir definitely went through tough moments but learned how to deal with all. She inspires the reader a lot and you can't help loving the sweet Francine, Kira and Sean.
Everyone has to read this book, it is so heart warming and it shares a powerful message. The characters are so unique and relatable and share a story so different but familiar at the same time. It was beautiful!
5/5
4. Aurora Burning by Amie Kaufman and Jay Kristoff
This book was expected here, of course. Last month I talked to you about the amazing, "Aurora Rising" (you can check out my review of this book here!). Book one in the Aurora Cycle series. In July, I got to read its sequel and my heart couldn't take that ending 🙁 This is a thrilling series, and it will keep you reading every chapter!
The year is 2380, and it follows the story of the graduating cadets of Aurora Academy in their first missions. We're back to Squad 312's story, of course an ancient evil that unleashed on book one is the main concern. The good news? Squad 312 is standing by to save the day. They've just got to take care of a few small distractions first, like the clan of gremps who'd like to rearrange their favorite faces and the cadre of illegit GIA agents with creepy flowers where their eyes used to be, who'll stop at nothing to get their hands on Auri. Easy missions 😉 .
It is such a fun and exciting read, and you get to love the characters and connect with all the adventures they have to go through. You for sure won't regret reading this series, even if you are not a fan of science fiction, this books are incredible!
3.5/5
5. The Unhoneymooners by Christina Lauren
This book was also one of my choices for #The Besties Readathon on bookstagram. This is a romantic comedy (believe it or not I actually enjoy a good rom-com 😉 ) that was recommended by a friend lots of time so I have to give a try. I actually enjoyed quite well, it's a super fun and charming story that's perfect for romance lovers. The enemies-to-lovers trope never gets old, and this is such a light and fun read.
I could not stop reading since page one, it was pretty engaging and interesting. Like playing a movie in your head 😉 ! And I also enjoyed some of the topics they touched on the last chapters. It was an enjoyable book.
The story follows Olive, who is always unlucky: in her career, in love, in everything. Her identical twin sister Ami, on the other hand, is probably the luckiest person in the world. Her fiancé is something out of a romantic comedy and she's managed to finance her entire wedding by winning a series of Internet contests.
Olive braces herself to get through 24 hours of wedding before she can return to her comfortable, unlucky life. But when the entire wedding party gets food poisoning from eating bad shellfish, the only people who aren't affected are Olive and Ethan. And now there's an all-expenses-paid honeymoon in Hawaii up for grabs, and Ethan is her sworn enemy.
Putting their mutual hatred aside for the sake of a free vacation, Olive and Ethan head for paradise, determined to avoid each other at all costs. She and Ethan now have to pretend to be loving newlyweds, and her luck seems worse than ever.
3.5/5
Hope you enjoy these books too and if you have read any of these feel free to tell me down below everything you loved about them! Spread love always dear book lovers. And happy reading, I hope August goes well for all of you!
Did you spend July reading? Tell me how it went and share with me your favorite reads of the month!
OTHER BOOKS I READ