-A.M. Aguilar
Book characters I'd love to be friends with!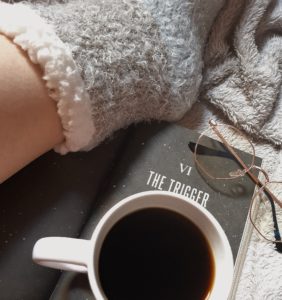 Charming, Courageous and Inspiring Characters
I've always said that reading is like escaping this reality for a while. The amazing part is that in this new world we're submerged in, we are not alone. We are surrounded by people with so many traits, abilities and personalities. They are from different time periods, cultures, or even different species. The book characters 😀 .
And they play such an important role because they're in charge of carrying out the story the author wants to tell. For me, a book that contains a well created character; hear me out! Not a perfect one, but a relatable one. A character with flaws and imperfections that develops their own potential and achievements through the book; a book that has this, is worth it.
Somedays we aren't looking for the perfect stories with the happy ever after, but a realistic storyline that shows us the true side of life and difficulties characters undergo. And yes, this can also be found in Fantasy and Fiction stories!
That is the wonderous part of reading; we meet astounding characters that we love and relate to, and also those that intimidate us and we end up disliking. Heroes and villains. Today we are talking about them. Our loved book characters.
If you follow me on my bookstagram ( @thebookssmuggler 😉 ) you may have noticed the poll I posted in my stories a few weeks ago. I asked you guys which posts would you like to see on my blog, and this was one of the top choices. Today I bring you the book characters I'd love to be friends with 😀 .
Take into consideration, I've chosen all of these from the books I have read and enjoyed the most. I bet there are so many more incredible characters I need to discover, but from the various books I've read so far I have known amazing and inspiring characters I want to share with you. Maybe knowing a little about them will make you pick up the books 😉 !
I don't know if I'm the only one that goes through this, but countless times after I finish reading a book, I feel like I'm saying good bye to friends I met and with whom I lived many adventures with. Kind of sad, but that's a thing I love about reading; submerging entirely in these worlds and storylines.
I want to give a big shoutout to all writers who create this unique characters that touch our hearts and stay with us forever. They are the geniuses here!
With nothing more to say let's get started…
Top 5 Book Characters I'd love to be friends with…
1. Harry, Ron & Hermione from Harry Potter
Of course our ultimate friendship trio! I would love so much to be friends with them, and I mean going to Hogwarts too 😀 . How amazing and fun would that be?
Meeting them in book one, and following their growth and stories for six books, definitely makes you connect with the characters. And seeing them overcome their personal issues and defeat the villain at a young age but with so much courage, is an inspiration.
Personally, I'd love to be friends with someone as brilliant as Hermione and have her as my mentor too 😉
I love their friendship and everything they have taught me about loyalty, bravery and magic adventures. "We all have magic inside us 😉 ." Harry Potter's friendship with Hermione and Ron will always be one of my favorites.
Check out Harry Potter and the Philosopher's Stone by J.K. Rowling
2. The Raven Boys & Blue from The Raven Cycle
I am currently reading book two, The Dream Thieves, in this series and I am am so captivated by the friendships this guys have with Blue. It is so fun and interesting to read because they aren't hanging out like normal teenagers but have gone on a mission to find a dead Welsh King and uncover the secrets the ley lines and dark magic has left in their city, Henrietta.
Blue is the daughter of a psychic and has been told her whole life, that if she kisses her true love, he will die. She is such a cool, brave, and empowered girl that I've loved to read about, and the friendship she develops with these boys from Aglionby School, is super cheerful and pleasant.
They are all so unique and charming in their different ways, Ronan, Adam, Noah and Gansey, and seeing them all interact and treat each other as family is remarkable.
Check out The Raven Boys by Maggie Stiefvater.
3. Will, Tessa & Jem from The Infernal Devices
The iconic trio from the Shadowhunters prequel. If I'm completely honest I simply couldn't decide between all of Cassandra Clare characters. She has created special, authentic, brave and intriguing characters in all of her books and I'd love to be friends with many of them.
Don't know if I'll fit in there because technically, I'm not a Shadowhunter, but still, I'd love to know them. I will leave some mentions in the end so this post doesn't become a fangirling over Shadowhunters post! We all know how much I love this series.
I chose these three characters, Will, Jem & Tessa, because they all inspire me in some way and have taught me a lot about friendship, fearlessness, justice and love. We meet them in Clockwork Angel (review here if you haven't read it yet!) and follow their story through the series. All the difficulties and obstacles they have to overcome, build their character essence and is what makes them so unique and inspiring.
Tessa Gray has been my favorite female character since the first time I read Clockwork Angel. Especially because of her young age in this book, I think I got to relate with her easily. Also a bookworm like many of us ;), Tessa is immensely curious and intensely determined when she decides to be. She is brave, strong-willed, and is incredibly caring. Someone I believe everyone should read about.
I also loved getting to know Will and Jem. They are the definition of best friends, and inspire me so much with their bravery and courage. They are parabatai, a pair of Nephilim warriors who fight together and are bound by oath. Their bond is reflected in their closeness and willingness to lay down their lives for each another.
Check out The Infernal Devices by Cassandra Clare.
Special Mentions Clare's books: the Merry Thieves from The Last Hours! They have to be my favorite group of friends ever! Also Magnus Bane 😀 and Alec of course, all the Herondale line PS: James specifically 😉 , Cordelia and Emma Carstairs, inspiring and beautiful ladies, The Dark Artifice's Blackthorn family, yess!, Clary Fray and Simon Lewis.
4. Nina and Inej from Six of Crows Duology
If you've read these books than you probably also found Nina and Inej's friendship so lovely. I would be honored to befriend them! They are both so beautiful and inspiring.
As I mentioned in one of my recent Instagram posts, I am always happy and excited to see strong and brave women who are capable of overcoming the difficulties in their way. They become my inspiration and teach me so much. That is the case with these amazing ladies.
Nina and Inej would be so fun to have around as best friends in whom you can trust will have your back during a battle and also be there for a girl's party and gossiping 😉 ! You can check out my review on Six of Crows right here!
Check out Six of Crows by Leigh Bardugo
5. Percy, Annabeth & Grover from Percy Jackson and the Olympians
Camp Half Blood is a summer camp for demigods, where Percy learns that the father he never knew is a greek god. And here we meet our beloved Annabeth, daughter of Athena and the satyr Grover.
Ohhh these three! 😀 Another of my favorite book trios. After mysteries begin to unfold, they have to complete a mission across the country to prevent a war between the gods. How would I love to be part of this team and help them defeat evil. Of course knowing we could die in the process 😉 .
This was one of the first books I read last year and I was amazed by their bravery, loyalty and endearing interactions. I would love to be friends with Annabeth especially, and learn from her wisdom, intelligence and daring character.
These three became one of my favorite book characters and oh, how much they inspire me!
Check out The Lightning thief by rick riordan
I hope you enjoyed this blog post and probably add some books to your TBR. I know you will love knowing this charming characters too 🙂 ! Thank you for staying here and following me through this blogging journey, dear book lovers. I couldn't be more grateful.
I hope you are all safe and doing well. Spread love always!
Which are some of the characters you'd love to be friends with? Let me know in the comments below!