-A.M. Aguilar
Top 5 Jan & Feb 2022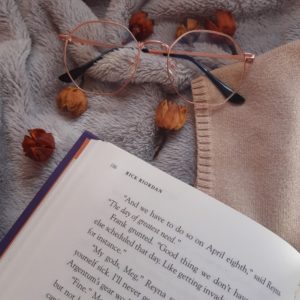 Murder Mystery, Urban Fantasy, Fiction & RomComs
Happy March book lovers! It feels like just yesterday we were celebrating New Year's, wow. Time does fly when you're busy; I've proven that fact xD . I hope the first few months of the year have been kind to you, and I can only wish the best for you during this month <3.
I apologize for the lack of content and reviews… as you know, I'm halfway through my sophomore year in college (online classes due to the pandemic) so the days are growing busier as the term goes by; though, I will always try my best to continue writing blog posts for you. I don't plan in quitting this blog ever, so, even if it's inconsistent I will try my best to bring you bookish content 🙂 .
It's always fun to make these posts and, writing for you all has become a way to release stress because I can sit down and talk about books as long as I want, which I never get tired of doing 😀 . In conclusion, THANK YOU book lovers for always staying tuned for new posts and interacting with me here and on my Instagram account. I appreciate it so much and I'm truly grateful!
Now back to the post haha: today we will be discussing my favorite reads of January & February. I have read a total of 11 books during the two months, genres that range from Murder Mysteries to Urban Fantasy and a RomCom too! Don't usually read these so it was a fun experience. Hopefully you'll be making your TBR higher with these new recs and have a bunch of new books for March 😉 .
If you want to, you can also check out my Top 5 Dec Reads !
Now, let's get started…
Top 5 Jan & Feb Reads
1. The Inheritance Games by Jennifer Lynn Barnes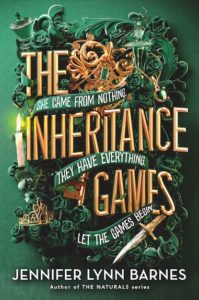 This book was astounding! It has the perfect combination of mystery, thrill, excitement and charm that will keep you hooked. Jennifer Lynn Barnes' writing is addictive because I swear, once I started I couldn't stop reading. Plus, short chapters <3. Always fun and easy to follow along with these 😉 .
We follow the story of Avery Grambs, a teenage girl who must solve a multilayered puzzle to find out why she's the one to inherit, multi-billionaire, Tobias Hawthorne's entire fortune. To receive everything, he has left for her. Avery must live in the secret-passage filled Hawthorne House, where every rom bears the old man's love for puzzles, riddles and codes.
The house is also occupied by the family that Tobias Hawthorne just disposed too… Caught in a world of wealth, privilege, and danger at every turn, Avery will have to play the game Tobias' has left for them all in order to survive. A fast paced, entertaining escape you will adore. Please check out this one; the sequel is out and the last book comes out this year!
4/5
2. The Spanish Love Deception by Elena Armas
I am not usually drawn to Romance genres, I mostly read books with a Romanic subplot instead of it being the main focus; but this one has been all over Bookstagram and BookTok so I decided I was going to give it a try. It was fun, charming and enjoyable to read, so I do recommend it. This novel is an enemies-to-lovers, fake-dating romantic comedy, perfect for fans of slow-burn romance and tropes like this.
It follows the story of Catalina Martín. Her sister, Isabel, is getting married soon and the family in Spain can happily announce that Catalina will be bringing her American boyfriend to the wedding. The thing is… she is actually single and there' s no boyfriend to bring along yet HAHA. Four weeks isn't a lot of time to find someone willing to cross the Atlantic Ocean for a wedding; but that doesn't mean Catalina is desperate enough to bring her colleague and nemesis, Aaron Blackford. The man who just offered himself to be her date.
This leaves Catalina with a dilemma: is it worth the suffering to bring her colleague as her fake boyfriend to her sister's wedding? Or is she I better off coming clean and facing the consequences of her panic induced lie? I would've chosen the latter honestly, but obviously this is the main storyline so we follow them through their fake dating arrangement 😉 .
3/5
3. Daughter of the Pirate King by Tricia Levenseller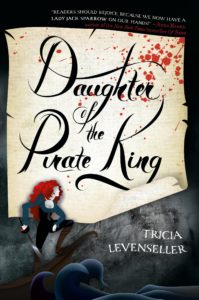 I am a big fan of piracy, sirens and overall fantasy in YA novels so I've had my eye on this one for a while. Set on the high seas, we follow the story of Alosa, a 17-year-old pirate who's captaining a mission to retrieve an ancient treasure map, however, during this mission she is captured by an enemy ship and everyone believes her quest is in serious jeopardy. Though in reality, she deliberately allowed herself to be captured by her enemies giving her the perfect opportunity to search their ship and still 1/3 of the map.
Alosa has only one thing standing between her and the map: her captor, the unexpectedly clever and suspicious of her abilities, first mate Riden. Her best shot to make it out of there safely and bring the map with her is not to raise any attention to her and seem as human as possible. She'll have to do whatever it takes to find that map and bring it back to her father, the pirate king. I really enjoyed reading the battles and fights because the MC's fighting skills are gold. I wasn't a big fan of the romance though, felt like it lacked something so I hope to see an improvement in the sequel 🙂 .
4/5
4. A Good Girl's Guide to Murder by Holly Jackson
New favorite book unlocked, I swear. Definitely recommend, a 10/10. I promise you won't regret it. The perfect mix of crime solving, mystery, thriller and adventure. Pip is a genius, and her partner in the investigation, Ravi is the perfect sidekick too. I also read the sequel, "Good Girl, Bad Blood" during the last few months so I am thrilled to start the last book in the trilogy.
A Good Girl's Guide to Murder is a YA Mystery novel that follows the storyline of Pip, a senior year student who has chosen the famous case of Andie Bell for her final year project. Five years ago, according to the police and everyone in town, Andie was murdered by her boyfriend Sal Singh, though Andie's body was not found and Sal "committed suicide after."
Pip isn't too convinced and is determined to solve the case herself. She starts to uncover secrets that someone in town desperately wants to keep hidden… and if the real killer is still out there, how far will they go to keep Pip from the truth? I AM OBSESSED. A masterpiece, please check it out! PS: Do check out the trigger warnings if you're interested because this trilogy deals with some dark and heavy topics overall.
5/5
5. The Lost Book of the White by Cassandra Clare and Wesley Chu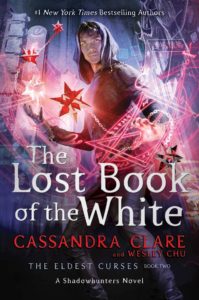 This is the second book in "The Eldest Curses" series and a Shadowhunters novel. My all-time favorite fantasy world; I've fallen in love with The Shadowhunters Chronicles since The Mortal Instruments dropped and I was very happy to get back to this world with this novel during January <3.
The Lost Book of the White follows our favorite warlock, Magnus Bane in a thrilling new adventure. The streets of New York are peaceful and quiet and they're getting used to their new life as parents of young warlock, Max; until one night, two old acquaintances break into Magnus's apartment and steal the powerful Book of the White. They have to drop everything to get it back and follow the thieves to Shanghai. Also, someone has stabbed Magnus with a strange magical weapon and the wound is glowing, so they have that to worry about too.
Fortunately, their backup consists of Clary, Jace, Isabelle, and newly minted Shadowhunter Simon. I WAS SO EXCITED OMG, the whole gang is back together and we see them face some darker threats and battles in Shanghai. Magnus's magic is growing unstable, and if they can't stop the demons flooding into the city, they might have to follow them all the way back to the source, to the very realm of the dead… 10/10 WOULD RECOMMEND 😀 .
5/5
Many of these have taken a spot in my list of "favorite books" (I AM OBSESSED WITH A GOOD GIRL'S GUIDE TO MURDER) so I definitely recommend. I hope you enjoyed reading this post and that I've made your TBR significantly larger too. It isn't a successful monthly wrap-up unless one of you tells me they've found a new book to read 😉 . Plus, check out "Other Books I Read" because they're also worth it!
Wish you the best for the week ahead, stay safe and sound, and take care. You are doing amazing already so don't give up yet, you've got this. Spread love always book lovers. Happy reading! PS: You can now check out my wrap up for best books I read in 2021. I know it has been an awaited post so here it is: "Favorite Books I Read in 2021."
Did you spend January & February reading? Tell me how it went & comment your favorite reads of the month too!
OTHER BOOKS I READ