-A.M. Aguilar
Top 5 Oct & Nov 2020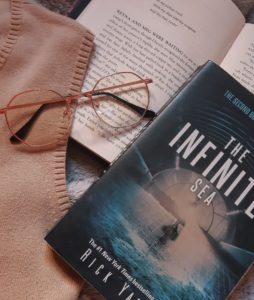 Mystery, Fantasy Fiction, YA Fiction, Fairytale Retellings
It is December 1st , book lovers. I'm amazed at how fast this year went by (and I've probably said this every month) but it is true! I feel like yesterday was March 13 and lockdown was starting here in Honduras, but no. We've been on quarantine for 8 months so far! To be honest some months have felt longer and dreadful than others, but it's finally December and 2020 is coming to an end.
And that means we're getting closer to our reading goals too 🙂 . Do you have reading goals? If so let me know which! Personally, I'm so bad at following reading goals, or monthly goals for example. I decided to not follow those; I'm more of a mood reader, so while I read books that I'm in the mood for or interested in reading, I don't have to pressure myself if I haven't read a certain amount books in a month. I only have a yearly count I'd like to accomplish.
So far I've read 92 out of 100 books that I had planned for 2020. I posted this is in my Instagram stories a few days ago, and I appreciated every single one of your encouraging and supporting messages telling me I can reach my goal before the year ends 😉 . And today I tell you! that you can also reach your goals if you had one!
If you aren't following me there yet, you can check out my account here! @thebookssmuggler. We're so close to 1.2K book lovers already. I can't belive it, and thank you so much from the bottom of my heart. You guys have made my quarantine 10x better 😀 .
And if there is something I want you to take from this post once you're done reading (aside from new books for your TBR 😉 ), is that a number of books don't determine if you're a bad or good reader. There's no such thing.
You should not pressure yourself but enjoy every book and moment you get to read. If you treasure reading and appreciate literature, that's enough to be called a book lover for me 🙂 .
This past two months (because genius me forgot to post the October wrap up ha-ha!) I've read incredible books that I want to share with you. Sadly, I can't share all of them, but at least 5 books I really enjoyed and favored.
This month I read two Cinderella fairytale retellings which are both unique and intriguing in their own way, I read a very impactful book on romance, my first mystery read 😀 and also reread one of my favorite books from the Magisterium series.
I can't wait to share these with you guys and hopefully have you add some of these great books to your TBR pile :). If you want to, you can also check out my Top 5 September Reads!
Let's get started…
Top 5 Oct & Nov Reads
1. One of us Lying by Karen M. McManus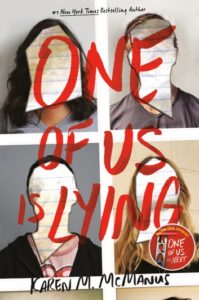 If you've seen my stories on IG then you may know that this book was actually my first Mystery read ever. To be honest, I've always been intrigued by the genre but never actually managed to pick up a book.
Thanks to a friend's recommendation I decided to give this one a try and let me say I was not dissapointed. I enjoyed it so much, it was so fun and intriguing to follow the murder's investgation and trying to figure out who the killer was 😉 . Pay close attention and you might solve this too… or at least try.
On Monday afternoon, five students at Bayview High walk into detention. Bronwyn, the brain that never breaks a rule. Addy, the beauty who is the picture-perfect homecoming princess. Nate, the criminal, is already on probation for dealing. Cooper, the athlete, is the all-star baseball pitcher. And Simon, the outcast, is the creator of Bayview High's notorious gossip app.
Only, Simon never makes it out of that classroom. Before the end of detention, Simon dies and according to the investigators, his death wasn't an accident. However, on Tuesday, he'd planned to post juicy reveals about all four of his high-profile classmates, which makes all of them suspects in his murder. Everyone has secrets, but how far would they go to protect them. That's the clue.
This book truly captivated me and I was reading non stop. It makes you ask questionds and truly be fascinated to find out the murder's outcome. If you haven't read Mystery like I hadn't, or want another rec, then this YA Mystery/Suspense is a perfect choice. I plan to write a review for this book soon so stay tuned!
The day I finished this one, I received many of you guys' recommendations of Mystery books, so I'll be checking those out very soon and maybe share Mystery recommendation list next year here on my blog. Let me know if you'd like that 😀 .
5/5
2. Evidence of the Affair by Taylor Jenkins Reid
This is one of the shortest books I've read, only 115 pages. And Taylor Jenkins did an incredible job plasming a deep story on those lines. "Evidence of the Affair" portrays the repercussions of an illicit affair, and the book unfolds through correspondance letters.
Carrie Allsop writes a meaningful letter to a man she's never met, David Meyer, and this choice will forever change both their lives. "My heart goes out to you, David. Even though I do not know you…" The correspondence reveals, little by little, the painful details of a devastating affair between their spouses; Carrie's husband and David's wife are together.
It is so painful and heartbreaking to read every piece of information they exchange through the letters and how each of them begin to confess their fears and bare their souls. They share the bewilderment over how things went so wrong and come to wonder where to go from there. It is a very simple story, but Jenkins did an astounding job with her writing style and disscusing this topic of an illicit affair from the victim's perspective, we can say. And the reality of how complicated it is to deal with one of these.
The book truly explores the complex nature of the heart, love, and the insecurities that arise when an affair is discovered, but they're the one you love and you don't what to do next. And ultimately, how liberating it can be when it's broken.
4/5
3. So This is Love: A Twisted Tale by Elizabeth Lim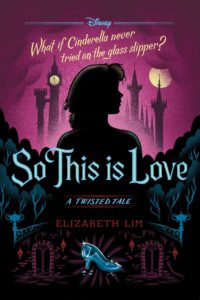 When I was younger, I used to watch Disney movies non stop in our DVD player with my twin (yes kids, we had those, no Netxlix yet 😉 ). And the movie we watched the most was "Cinderella III: A Twist in Time."
Cinderella is actually my favorite Disney princess because of that. I was obsessed and I loved the story with the twist the curse brought. So of course I had to pick up this book when my best friend told me about it.
One of the books in Elizabeth's twisted tales series, "So This is Love" narrates the tale of Cinderella but with a twist. What if Cinderella never tried on the glass slipper? Unable to prove that she's the missing princess, and unable to bear life under Lady Tremaine any longer, Cinderella plans to escape. But lady Tremaine has other plans.
After finally escaping the men she was sold to, Cinderella founds help on a young lady and starts to work at the palace as a seamstress. However, when Cinderella finds herself witness to a grand conspiracy to take the king, and the prince, out of power, she is faced with questions of love and loyalty to the kingdom. Cinderella must find a way to stop the villains of past and present before it's too late.
I was in love with Prince Charles to be honest, he had such a wearm heart and actually cared for his people's rights and the future of the kingdom, the people; not just the money and upper class like the King and Duke did.
If you're a fan of retellings and fairytales then you will truly enjoy this one with it's heartwarming, brave main characters, & the uncertain future for magic and the kingdom with the new king to be chosen. And of course the romance, oh! its so pure and genuine. The prince and Cinderella will captivate your heart since Chapter 1 😀 .
5/5
4. The Iron Trial by Cassandra Clare & Holly Black
Book one in the Magisterium series, The Iron Trial follows the story of Callum Hunt. These books are honestly some of my favorites. Cassandra Clare and Holly Black's writing style combined to form this captivating, enthralling and chair-gripping story makes it an incredible book series. You won't regret it. The characters' uniqueness and charms, the settings and the storyline and plot twists will make you stay. You'll want to read book two 😉 .
All his life, Call has been warned by his father to stay away from magic. Her mother died when he was a baby and his father claims magic and the Mages at the Magisterium have the fault.
Call is certain that to succeed at the Iron Trial and be admitted into the vaunted Magisterium school would bring bad things, so he decides to fail all the tests and not have anything to do with magic. But he fails at failing and is chosen by one of themost powerful mages to attend the Magisterium in his class. Now Call has to train and learn how to control his magic before The Enemy of Death attacks once again. Of course this is a warning all students are given, he supposedly died 12 years ago,but his followers can still attack and declare war to the Mages. Only hard work, loyal friends, danger, and a puppy await him at the Magisterium.
I will be writing a review for this book soon too, so I hope you'll foward to that 😀
5/5
5. Cinderella is Dead by Bayron Kalynn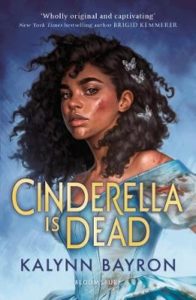 This is a Cinderella retelling too, but more of a dystopian version than the one previously discussed.
It's 200 years after Cinderella found her prince, but the fairy tale is not over. In this town where Cinderella once lived, teen girls are required to appear at the Annual Ball, where the men of the kingdom select wives based on a girl's display of finery. If a suitable match is not found, the girls not chosen are never heard from again.
Sixteen-year-old Sophia refuses to participate in this event and would rather marry her childhood best friend than a misogynist man from the kingdom nobleness. At the ball, she makes the desperate decision to flee, and finds herself hiding in Cinderella's mausoleum. There, she meets Constance, last known descendant of Cinderell who carries the honest truth about the King and his government. Cinderella herself gave this message to her family before dying.
Together they vow to bring down the king once and for all while learning that there's more to Cinderella's story. This is such a thoughtful, intense and gripping story. If you're interest in Fantasy and Fiction then you'll enjoy this one.
Fast paced, captivating and emotional, this stand alone will have you cheering for Sophia's bravery and rooting for the girls to break down the constructs of the world around them. It leaves the reader with a powerful message 🙂
4/5
I hope you're intrigued by some of these lovely books and add them to your TBR. Maybe you'll read some next year 😉 . If you've already read any of these please let me know in the comments section and tell me about your current reads!
Thank you to all of you who stay up to date with my posts and have been following me through this journey. Your love, support and passion for reading is what keeps me going 🙂 . I don't have words to express how happy and grateful you make me!
Spread love always, dear book lovers. I hope December goes well for all of you and that we can begin 2021 with a positive mindset. Stay tuned for my instagram, I'm always active there on stories, posts and DMs 😀 .
Happy reading book lovers!
Did you spend your October or November reading? Tell me how they went and don't hesitate on commenting your favorite read of the month!
OTHER BOOKS I READ