-A.M. Aguilar
Top 5 April 2022
Mythology Inspired Fantasy, YA Fiction, Science Fiction and Graphic Novels
We are officially starting the 5th month of 2022, WOW! Time does fly, I swear; where do the hours even go? For real, we are about to finish the first half of the year. That's surreal. Anyway, I hope you have been spending time well, dear book lovers. Staying safe, taking care and dedicating time to yourself, if possible. Remember you are your first priority :D. Hope you're all good!
May is starting which means I have 2 weeks left of vacations before the next college trimester begins (dreadful, I know). Though, I HAVE been trying to make the most out of these break by reading as many books as I can, watching the new TV shows on Netflix, taking pictures for my Bookstagram feed (@thebookssmuggler) and relaxing overall. I have also been planning a couple of posts for my blog (and maybe a reviewe to come) so make sure to stay tuned for that!
Today we will be discussing my favorite reads of April: I read a total of 8 books during the past month and two of them, which are graphic novels, I have included here because I adored them and hope more people can read these :). I hope that these mini-reviews and my opinion about them can spark your interest and make your TBR for May a little bit higher. One of the things I love the most about this community: we will always be discovering new books to read <3.
If you want to, you can also check out my Top 5 March Reads !
Now, let's get started…
Top 5 April Reads
1. Aru Shah and the End of Time by Roshani Chokshi
I am completely intrigued with this world Roshani Chokshi has created. An urban fantasy, middle-grade novel, based off Hindu Mythology and legends that I am OBSESSED with! I am currently reading the sequel too because I couldn't wait any longer :D. With incredible, relatable and inspiring characters & badass magical weapons and powers; this book will absolutely captivate you. We follow the story of Aru Shah, twelve-year-old, who has a tendency to stretch the truth in order to fit in at school…
While her classmates are on family vacations in exotic places, she'll be spending her autumn break at home, in the Museum of Ancient Indian Art and Culture, waiting for her mom to return from her latest archeological trip. One day, three schoolmates show up at Aru's doorstep to catch her in a lie: they don't believe her claim that the museum's Lamp of Bharata is cursed, and they dare Aru to prove it :0.
Of course, our protagonist can't stay out of trouble for too long, she does whatever to not be caught lying but… lighting the lamp has dire consequences. She unwittingly frees the Sleeper, an ancient demon whose duty is to awaken the God of Destruction. Her classmates and beloved mother are frozen in time, and it's up to Aru to save them!
The only way to stop the demon is to find the reincarnations of the five legendary Pandava brothers, and journey through the Kingdom of Death. IT IS SO ADDICTIVE AND LEGENDARY! I promise you, this is a win. Definitely check it out if you're interested in mythology based stories (like Rick Riordan novels) :).
5/5
2. The Darkest Part of the Forest by Holly Black
If you know me, then you may be aware that Holly Black's fairies' stories are my favorite! I read The Modern Fairie Tales last year and truly enjoyed them. And of course, I am a HUGE FAN of The Folk of the Air <3. I had to check out this stand-alone which is praised everywhere! The Darkest Part of the Forest is full of fairies and magic, curses, themes of family and loyalty, character arcs and reverse tropes, plus urban fantasy elements, all brought together in this novel, which make it a 10/10.
Hazel lives with her brother, Ben, in a strange town of Fairfold: where humans and fae exist side by side. The faeries' seemingly harmless magic attracts tourists, but Hazel knows how dangerous they can be, and she knows how to stop them. At the center of all this story, in the middle of a dark forest, there's a glass coffin. In it, sleeps a boy with horns on his head and ears as pointed as knives. The boy has slept there for generations, never waking. Until one day he does…
Hazel and Ben's world is turned upside down; especially after discovering the mysterious bargain one of them has made to be a Fae knight and destroy any evil that arises. It's an intricately detailed story tinted with loyalty, betrayal and new love. The romances are both SO sweet, you have to read it and see for yourself :).
"Children can have a cruel, absolute sense of justice. A girl can look at her brother and believe they're destined to be a knight and a bard who battle evil. She can believe she's found the thing she's been made for." Holly Black's characters, world building descriptions and original storylines make her books an amazing choice! Please check this one out, definitely recommend 😀
4/5
3. Vengeful by V.E. Schwab
The sequel to the New York Times Bestselling novel "Vicious." V.E. Schwab is back with an action-packed, adventure fueled and dangerous storyline that follows our favorite superhero antagonists, Victor and Eli. I read book 1 last year and was completely immersed with the world building and characters Schwab created, however, I didn't have a chance to pick up the sequel.
This month I was able to get the e-book and continue this story and I am speechless. WOW! It surpassed my expectations completely. Every second of it: addictive, wild and vicious (see what I did there 😉 ). I really enjoyed going back to this world! I won't spoil it for you, no worries. I will link the post where I talk about book 1, "Vicious," so you can check it out and later read the sequel too <3. Click here!
In this last book we meet some new characters, learn more about Eli's past and follow a race against the clock for Victor's survival… 10/10, I am excited for the sequel V.E. Schwab announced too, we will have a third book! <3. A fascinating story! Do recommend.
PS: check out the trigger warnings, though. I understand these books aren't for everyone. (tw // animal death, blood and gore (graphic), domestic abuse, death, drug abuse, self-harm, sex (graphic), suicide, violence)
4.5/5
4. The Prince and the Dressmaker by Jen Wang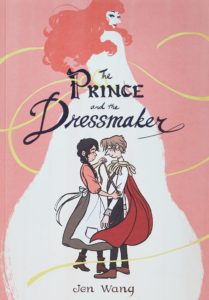 A new favorite! <3 One of the 2 graphic novels I read in April, The Prince and the Dressmaker is full of the sweetest romance, a powerful storyline, fairytale-like, that follow our talented characters through their adventures through Paris fashion and royalty. This one is a 10000/10.
Following the story of Prince Sebastian, at the dawn of the modern age, his parents are looking for a bride for him: royalty, princess and high-class. Sebastian is tired of living the life his parents want for him; he wants to marry someone he actually loves though, not any royalty girl.
Instead, he focuses on dedicating his allowances and investments in the fashion industry to support his best friend. Sebastian's royal dressmaker, and best friend, is the brilliant Frances, one of only two people he can trust. Jen Wang weaves an exuberantly romantic tale of identity, young love, art, and family in this beautiful graphic novel. A fairy tale for any age, The Prince and the Dressmaker will steal your heart! I PROMISE. Do check it out :).
5/5
5. The Girl from the Sea by Molly Knox Ostertag
Finally, the second graphic novel I read this month. A coming of age graphic novel, with environmental focus, that details the story of Morgan, a young girl who lives in an island with her divorced mother and volatile little brother. Morgan keeps lots of secrets, but the most recent one: she helped a young girl from drowning but it turns out she isn't an ordinary girl at all…
The two become friends and suddenly life on the island doesn't seem so stifling anymore; but Morgan can't tell anyone about Keltie's secret, she is a selkie granted the power to walk on land and on a mission to save her home which is in danger of extinction.
Ostertag manages to keep the story feeling fresh as she examines the volatile emotions of balancing friendships, secrets and a complicated family. PLEASE READ IT, a review cannot make it justice. It is just beautiful and soft and perfect! It discusses what family is, loyalty, dedication and passion towards what you support. The ending melted my heart and it brought tears to my eyes too, please read. You will not regret it ;).
5/5
The books for today's monthly wrap-up are all SO good and worth it; I promise. You should definitely check them out; and if you do, feel free to let me know, I always enjoy talking with you guys about our favorite reads :D. PS: Always check out the trigger warnings for these, sensitive topics may be discussed.
Hope you enjoyed this post! Please stay tuned for new updates, I always post about it on my Instagram story so head over there and have your notifications on :). I am excited to write new blog posts this week and hopefully an incoming review too. As always, make sure to check out the books I included in the "Other Books I Read" section because they were all amazing too. Wishing you all the best for this new month, spend your time nicely & spread love always book lovers. Happy reading!
Did you spend April reading? Tell me how it went & comment your favorite reads of the month too!
OTHER BOOKS I READ