-A.M. Aguilar
Top 4 November 2021
Fantasy, Fiction, Historical Fantasy & Thriller Fantasy
We are finally on the last chapter of 2021. This year feels like an extension of 2020 and for many of us, maybe that's not a good thing; but overall we have made it through and that's something we should be grateful for. I'm proud of you for making it to the end of this "rollercoaster" of a year. Let's hope for the best on the year to come 😉 .
December is here and that means that cozy sweaters, warm blankets, hot chocolates and a good book next to the fireplace 😀 (and streaming Red Taylor's Version, am I right?) Winter is my favorite season and I can't wait for it to start and spend nights curled up with a good book. One of the things I love the most about winter break is the spare time to dedicate to myself and my favorite hobbies; if you're able to, focus on yourself and make time for your favorite activities during the holidays! Always make yourself a priority and dedicate time to all the things you love.
Today we are discussing my top reads of November (I read 7 books but 3 of them are part of the same trilogy so we will only talk about 4 lol) and hopefully you'll be interested in picking up more than one of these <3. I read 2 fantasy novels, a thriller and a new favorite trilogy. I hope one of them will catch your attention and you'll be able to add it to your December TBR!
Also, stay tuned for my blog updates because I'll be sharing some of my favorite reads of 2021 later this month. I'm always active on Instagram so you can stay up to date with my blog posts through my daily stories: if you aren't following me yet go ahead and do that 😉 , @thebookssmuggler. Always happy to gush over our favorite reads, book characters and stories.
If you want to, you can also check out my Top 5 Sept & Oct Reads !
Now, let's get started…
Top 4 Nov Reads
1. Fireheart Tiger by Aliette de Bodard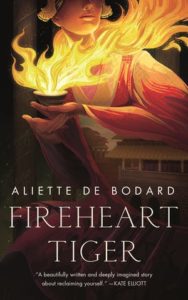 This novella has it ALL! (less than 100 pages but every single one is worth it) And I am obsessed, really. I want more people to read this one. I swear I was not expecting the ending but it was a good kind of surprise 🙂 . From magic, fire, and love to a story of betrayal and political fantasy; Fireheart Tiger will captivate your heart, I promise.
We follow Princess Thanh, she was sent away to a powerful country of Ephteria as a child and has returned to her mother's court, haunted by worrying magical echoes of the fire that destroyed the royal palace a long time ago… Her new role as a diplomat brings her before the general who has dangerous secrets planned for them, plus the fire that burned down the palace (the spirit of a girl in fire form) is tempting with the possibility of making her own dangerous decisions; it's up to Thanh to decide for the future of the kingdom.
Not only the fate of her country but also of her own future… I LOVED IT. It's a very short story so please give it a try if you're interested. I'm only rating this at 4.5 because I wish it were a longer story. It is beautiful! 🙂
4.5/5
2. The Foxhole Court by Nora Sakavic
Trigger warnings: ableism, homophobia (use of slurs), rape, sexual assault, child abuse, physical & emotional abuse, self-harm, addiction, alcohol & drug use (consensual and non-consensual), graphic blood and gore depiction, physical injuries, knife violence, bullying.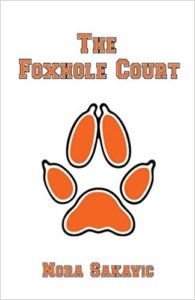 Maybe it's because I finished the trilogy and my opinion is biased but I REALLY liked this one. It is questionable at times; I'll give you that, but it can be a very interesting read so I am still recommending it. At first is like "oh, a story about sports and teamwork!" HA, you bet! We start learning about some dark backgrounds, the mafia becomes involved and a rivalry between two dangerous schools… this is so much more than a sports story 😀
It is set in the early 2000's and follows the story of Neil Josten, a boy with a very dark and unsettling past but one he's determined to hide as long as possible. After graduating high school, he is given the chance to play as the newest addition to the Palmetto State University's Exy Team (a badminton-styled sport): he's short, fast and has a ton of potential. Neil is also the runaway son of the murderous crime lord of town…
Signing a contract this big will only bring attention he doesn't need on himself right now. His lies can only hold for so long. But Neil is not the only member of the team with dangerous secrets to spill…One of Neil's new teammates is a friend from his old life, and Neil can't walk away from him a second time. PLEASE LET ME KNOW IF YOU DECIDE TO READ THIIS!
3.5/5
3. Our Violent Ends by Chloe Gong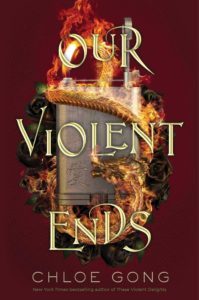 My most anticipated read of November and I can say it surpassed all my expectations. Chloe Gong understood the assignment 😉 .The sequel to These Violent Delights (I talked about this one in my Top 5 August 2021 so you can check that out here!), New York Times Best Seller and with due reason. Our Violent Delights picks up right after the ending of book one and it goes all in! It has taken a spot in my favorite books of 2021 because it is simply STUNNING.
This duology is a masterpiece, I promise. Please read the These Violent Delights duology soon 😀 . We follow the story of Juliette Cai, daughter of the head of the Scarleth gang and Roma Montagov, son of the head of the Whiteflowers gang. Set in Shanghai, 1920's at the edge of a revolution. We learn of a monster and a madness that is spreading through a city at the edge of destruction. Full of traitors, killers, gangsters and forbidden lovers, this is a political based story and a "Romeo and Juliet" retelling.
One wrong move, and everything they've worked for could crumble. In book 2, a new monstrous danger emerges in the city and secrets are about to be revealed… you have to add this to your immediate TBR. You won't regret it at all.
5/5
4. Ninth House by Leigh Bardugo
Trigger warnings: violence, rape and sexual assault, murder, gore, blood, drug addiction, overdosing, death, suicide, blackmail, self-harm, and forced consumption of human waste.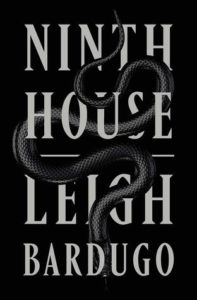 This book was one hell of a ride and I'm here for it. I swear every second of it I was just blown away. Leigh Bardugo is a genius and incredible author, still one of my favorites that's for sure 🙂 (for context, this book has nothing to do with the Grishaverse. It's a separate story so you can read it without having read Bardugo's previous books).
Ninth house follows the story of Galaxy "Alex" Stern. The most unlikely member of Yale's freshman class but she's here. Raised in the Los Angeles by a hippie mom, Alex dropped out of school early and was thrown into a world of shady drug dealing, dead-end jobs, and much, MUCH worse. By age twenty, in fact, she is the sole survivor of an unsolved multiple homicide. At her hospital bed, Alex is offered a second chance: to attend one of the most elite universities on a full ride. Why her, though?
Alex arrives in New Haven tasked by her mysterious benefactors with monitoring the activities of Yale's secret societies; but, their occult activities are revealed to be more sinister and more extraordinary than any paranoid imagination might conceive. This novel will give you all of the chills, creeps and mind-blowing revelations. Definitely would recommend!
4.5/5
Every single one of these stories are SO worth it, and I really hope at least one of you will go and pick them up at the bookstore soon 😉 And if you do read them soon, feel free to tell me about it and let's rant about these stories together! I love doing that with you guys. I hope you enjoyed this post and that I've made your TBR significantly larger too HAHA.
Also if you've read any of these, let me know in the comments down below & tell me about your favorite November reads. Let's chat about it! Thank you to all of you who stay up to date with my posts. I couldn't be more grateful for you all. Stay safe, take care, spread love always and happy reading dear, book lovers. You deserve only good things, xoxo.
Did you spend the last month reading? Tell me how it went down below & tell me about your favorite reads of the month!
OTHER BOOKS I READ