-A.M. Aguilar
Books I think Everyone Should Read…
Precious Lessons, Dazzling Writing Styles and a Devastating Love Story
What makes certain books become our favorites? Some may say that they were immersed in a certain character and that character's book became part of their life. Others can say that a book changed the way they felt about themselves or the world, the way they view life. Or they may choose a book as favorite because they read that book at a certain period of their lives and it is now attached to that memory.
"It was books that made me feel that perhaps I was not completely alone." -Cassandra Clare
There is always something new we can learn from every movie, book or song we encounter. And I have always said that every book, no matter the genre (and yes, even fantasy!), teaches us something that stay with us for the rest of our lives.
Even if we don't realize it, some books may have changed the way we view life and friendship, the way we analyze and think things through, or the way we act, love and live.
A few weeks ago, I posted a poll in my Instagram stories and I asked you guys which posts you would like to see on my blog, and this was one of the top choices. Follow me over there if you would like to (@thebookssmuggler ) we're more than 1.1K book lovers already and I couldn't be more grateful 😀 .
Of course I can't recommend all the books I want people to read; this post would be huge. But today I'm bringing you my top 5 choices and I hope you will like them, and probably add some of these to your TBR! 🙂
In my case I consider a book a treasure or one of my favorites when I relate to a character, or find a stunning writing-style and storyline or, and especially, when I learn a lot from it. Just like I mentioned yesterday on my "Top 5 September Reads," that was the case with 'Your Erroneous Zones.' You can check out that post right here! 😉
Today I'm talking about these books that have become my favorites, but I'm not only recommending them because I like them, but because I think they all have something that can touch every heart. A lesson to be learned or a breathtaking story that teaches us life lessons.
These books are incredible and all have taught me so many things. I hope you can feel the same way too.
Of course you may think differently, and consider books everyone should read as a different set of books, but that's okay. We can all have our opinions and I think that's amazing. You can share your choices with me and I'll share mine with you. Leave your comment down below and let's chat.
With nothing more to say let's get started…
Top 5 Books I think Everyone Should Read…
1. The Alchemist by Paulo Coelho
If you've been here for a while than you may already know how much I have enjoyed Paulo Coelho's books. If you didn't know, then let me introduce you to one of my favorite authors.
His books are always filled with interesting stories and tales that aren't just intriguing but also weave fundamental lessons and values for life. "The Alchemist" is one of his best-sellers, and books I like the most. I think everyone should read this book at least once, even though it is a book that no matter how many times you read, you always learn something new from it. You can check out the review I wrote for this book right here!
Love, courage, bravery, patience and the most special lesson, hope. I was amazed by what a great novel this is even though it follows the simple but remarkable story of a shepherd boy who decides to follow his destiny and find his treasure.
Anyone can learn something valuable after reading "The Alchemist." No matter the genres you usually read, you will be fascinated by this marvelous story.
You are able to learn that in order to achieve your heart's wildest and fiercest dreams, you need patience and faith. You will get there one day and achieve what you most desire, but along the way you need to learn the importance of listening to your heart and enjoy the journey. Because the valuable thing we receive is not the treasure itself, but the journey to get to the treasure.
2. Into the Magic Shop by James R. Doty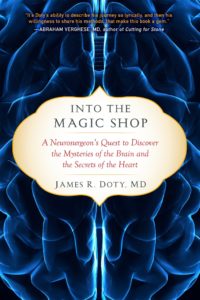 "A Neurosurgeon's Quest to Discover the Mysteries of the Brain and the Secrets of the Heart." This book is extraordinary. I will never get tired to recommend it, and I think everyone should read this story. Full of a heartwarming life description and many lessons to grab from it.
When young Neurosurgeon James Doty, wandered into a Magic Shop looking for a plastic thumb, in the middle of California, his life was at a dead end. Here he met Ruth, a woman who taught him a series of exercises to ease his own suffering and manifest his greatest desires. Back then he didn't know this is actually called neuroplasticity, the ability of neural networks in the brain to change through growth and reorganization.
It is beautifully portrayed through simple practice steps that needs discipline to do it every day. Ruth's final order was that he keep his heart open and teach these techniques to others. And that is exactly what James teaches and explains in a wonderful and captivating way through this book, by narrating his life story and how he learned to tame his thoughts and portray his dearest dreams.
This book is more than a journey; it is road map to life. It definitely is a book that everyone should read, and will never regret doing so. Lessons you can apply to your life to see these things manifested. "There is nothing that the heart really wants that the mind can't achieve."
3. Angels and Demons by Dan Brown
If you know me, you may know that I have fallen in love with Dan Brown's books and writing style. It is simply incredible! That type of book where a chapter leaves you completely gripped and in awe, and when you flip the page to the next chapter, it narrates a different point of view. But now you're gripped with this one, and when it ends you go back to the last one and are totally immersed again. It is amazing if you know what I'm talking about!
If you haven't yet, you need to read a book written by Dan Brown. At least once in your life. I can't describe how impressive and astounding they are! Please give them a try 😉
Today I'm recommending "Angels and Demons." It is a stunning storyline, that follows Dan's main character, Harvard symbologist Robert Langdon. He has been summoned to a Swiss research facility to analyze a cryptic symbol seared into the chest of a murdered physicist.
What he discovers is actually a deadly vendetta against the Catholic Church by an underground organization; the Illuminati. This book follows the thrilling and desperate countdown race to save the Vatican from a powerful time bomb that can destroy everything around it.
Robert Langdon joins forces with scientist Vittoria Vetra and they embark on a frantic hunt through sealed crypts, catacombs, and deserted cathedrals, around Rome to find the most secretive vault on earth.
"Angels and Demons" is an absolutely brilliant thriller and conspiracy story that has to be read. It is super entertaining and stunning; worth the read.
4. Song of Achilles by Madelline Miller
I have been a fan of Greek mythology ever since I first encountered it in 6th grade. It has always captivated my attention, and when I saw that this book is a retelling of Achilles and Patroclus myth I had to give it a try. Achilles' story has always fascinated me.
I can't stop recommending this book to everyone. I couldn't have loved it more 😀 . It is so beautifully written and the story portrayed is so heartwarming and breathtaking. This book narrates young prince Patroclus' life after being exiled to the court of King Peleus and his son Achilles, the epic Trojan War, and a devastating love story in the most perfect way.
Madeline Miller portrayed everything incredibly. The almighty battle between gods and kings, peace and glory, immortal fame, and the society attitudes being so close to the traditional Greek myths. Simply, an amazing job!
All the lessons it leaves and the incredible storyline has to be read by everyone. A beautiful book with no doubt. Please, please let me know if you have read this one, or would like to 😀 .
5. The Magician's Nephew by C.S. Lewis
"The Magician's Nephew" is the prequel to "The Witch, the Lion and the Wardrobe." Even if you don't want to read the other six books, I think everyone should read this one at least. There is a specific scene, where the author narrates how Aslan created Narnia… breathtaking.
I haven't read a piece of literature so pure and genuine in my life. It is beautifully described and should be read by everyone!
The simplicity and originality of this work of art, one of the first fiction stories to be published, has to be appreciated by every reader. Trust me 😉
"The Magician's Nephew" follows the story of Diggory and Polly. Two friends that net in the summer and decided to burst into an adventure following the secret passages to the house next door. What they don't know is that Diggory's Uncle, who calls himself a magician, purposely sent them hurtling to somewhere else with his passages.
They find their way to Narnia where they have to encounter the evil sorceress Jadis before they finally return home.
I hope you guys liked this post! I really enjoyed writing it and hope you will enjoy it too. I had been hinting at this for weeks on my stories, and now I finally got to post it!
Maybe you've read some of these and loved them too; maybe now you are interested and plan on adding some to your TBR. I hope that's the case, and if it is, please let me know. It would mean a lot!
Let me know in the comments below which are some books you think everyone should read; I'd love to see your choices and give them a try too 😉 .
Thank you for staying here and following me through this blogging journey, dear book lovers. I couldn't be more grateful to have people read what I have to say about the books I love. I hope you are all safe, well and healthy. Happy Weekend and best of lucks for this upcoming week! Spread love always.
Which are some books you think everyone should read? Let me know in the comments below!